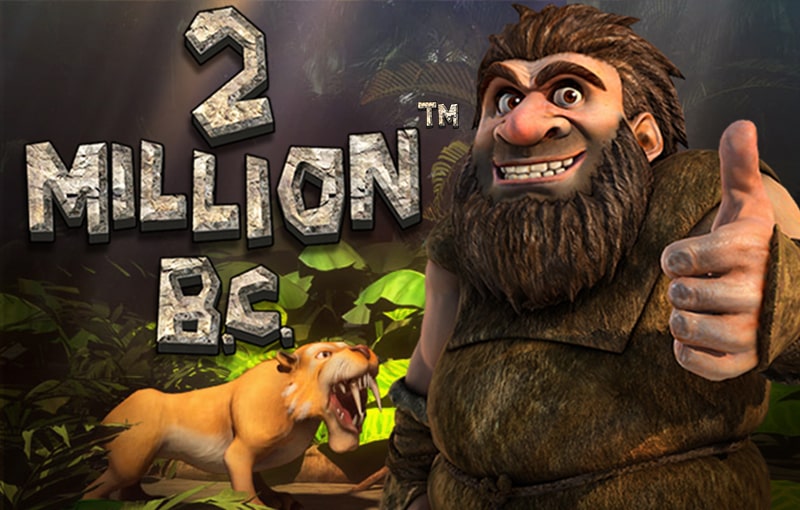 2 Million BC is a prehistoric themed game, with cavemen, with beautiful graphics and animations.
2 Million BC is a story about a caveman, one that tries to steal a huge diamond from a saber tooth tiger apparently, to take to his lovely cavewoman. Betsoft has created a great design, and they've used plenty of animations inside, to bring the characters from the reels to life, especially during the special features. You have the caveman as a constant companion next to the reels, cheering you on and entertaining you. Look out for things like scatters, bonus games and free spins, they're all available inside. You can win up to $2,500 in a regular combo. The slot has 30 lines total, on 5 reels.
The graphics are of excellent quality, and the symbols are the ones you expect to see in a game about cavemen. There is both the caveman and the cavewoman, there are stone wheels, clubs, sabertooths, stone necklaces, wall drawings and so on.
You can pick each part of the wager, the coin value being the first one and going up to $1. The second rock with a betting option on it has the number of lines, but I would recommend you stick with the maximum of 30 lines here, for more chances to get paid. The bet per line will simply increase the number of coins, from 1 to 5. You can spend at most 150 coins, and their top value will be $150.
Triggering free spins is done with the help of the Fire scatter. You get access to that feature when there are a minimum of three such symbols, even if their position is not on the same active line. Retriggering the free spins is possible, if the requirements are met once again for them.
To activate the bonus game called Saber Attacks, you need the Acorn symbol. You actually collect these, and three of them will be needed in order to get you access to the feature. In it, you have to help the caveman to attack the Sabertooth.
The final feature is going to be triggered through the Diamond symbol. When it forms a combo of 3+ symbols, it unlocks a Diamond bonus and also pays you up to $1,000. You have to choose which method of stealing the diamond from the Sabertooth should be employed.
It's a game that makes its action a lot more fun than most slots manage, and I love Betsoft for that, because they create stories as well for their titles.
2 Million BC

gameplay video

https://youtu.be/ZIM6VtFnHKw