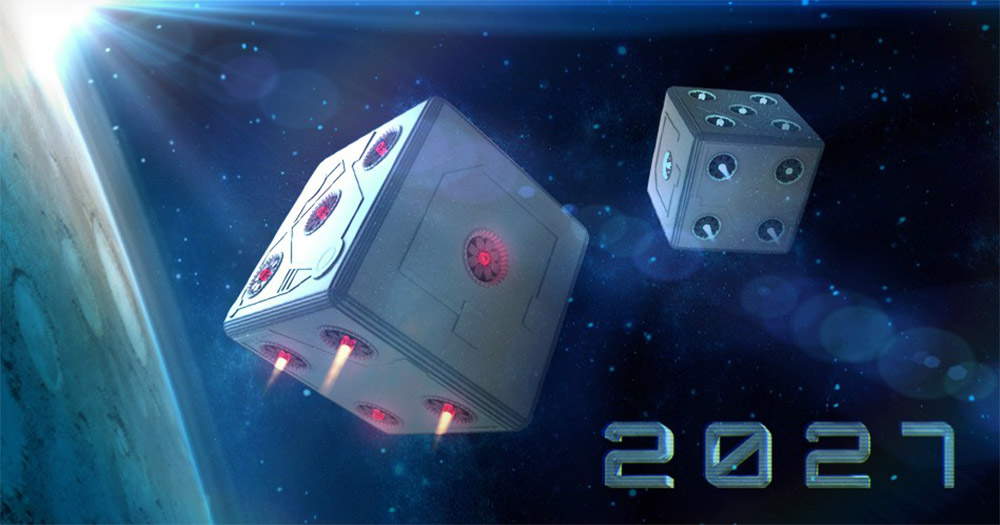 2027 ISS is dedicated to the International Space Station, as the developer, Endorphina, sees it for the year 2027.
2027 ISS is a game that's going to take the action to the future, and it will show us a variety of objects that are generally present in orbit above our planet, or above the Moon. The game will show you a Moonscape at the bottom, with the black space filled with stars as the background. For the symbols, they started things out with the poker cards, which look somewhat futuristic, in a computer letter kind of design. Then, they used images of various types of space objects, but they modified them so they also included logos of casino games, or they made them resemble them directly. The cube shaped satellites are shown as dices, the space station is in the form of a roulette wheel, the regular satellite has the Bingo 18 logo, and so on.
The game, even though it touches on such a modern topic, has only 9 lines available inside. You can get a payout of $90,000 at most from it, plus you also get to take advantage of wild symbols that have multipliers, of scatters and unlimited free games.
Games that Endorphina releases these days all seem to share a betting system where the coin value can get up to $1 and where you can have up to 10 coins per line. With the 9 lines available here, you can set the bet up to reach a maximum value of $90, while the minimum is at only $0.01.
Keep an eye out for the symbol with the Astronaut, the one that has the triple 7 visible on the helmet's glass. You may use this symbol as a replacement, as it can be combined with regular symbols and it can form combinations with them. It will come with its own multiplier of 2x, so the wins are going to be doubled every single time it manages to help you out. On its own, when forming regular combinations with other wilds, it will pay as much as 9,000x, which can be translated into a prize of up to $90,000.
The other feature icon to consider is the ISS Logo, the scatter which can trigger an unlimited number of free games, if you have at least three symbols in view. You also get paid up to 500 times the wager if you have up to five visible. The free spins have their own 3x multipliers. They end when the player collects a fuel cell on the counter.
2027 ISS is a nice game to play, for a number of reasons, among which I'd especially mention the unique topic and the big payouts which are possible.