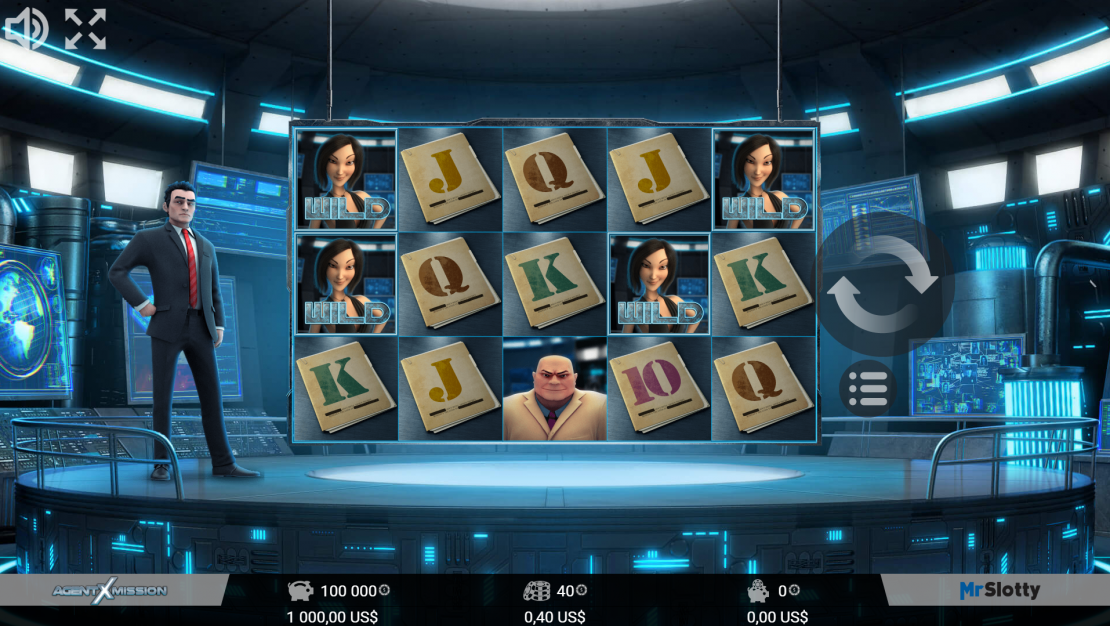 Agent X Mission Slot review
Agent X Mission is one of MrSlotty's slot machines, and in its case, we're getting a secret agent kind of story.
James Bond has nothing on Agent X, the hero of this slot machine that's available from MrSlotty. The location for the game is inside a secret base, and that's why you see so many monitors in the background, in a very high-tech location. Agent X is sitting right there, next to the reels, while among the regular symbols used inside you will have images of his assistant, the villain, suitcases, poker chips and five papers on which the playing card logos have been printed, in various colors. It's a game with a modern look, 3D style and seemingly inspired by video games. It's not the type of game where you'd imagine that the symbols were hand-drawn, but that doesn't make it a bad looking slot.
You will be playing on up to 40 active lines, in a game that can deliver payouts of up to 777x. It holds 15 symbols on its 5×3 reels, so the lines are more crowded in there than in most regular slots. Looking at the available features, the game's list includes a wild, a scatter and free spins, meaning that it's a relatively simple mix.
There isn't much to the betting system. You have 1 to 40 lines that you can activate on one side, and then you have the coin denomination that gets from $0.01 to $0.50. Mix the two values as you see fit, and you can bet anywhere between $0.01 and $20 each round.
A very valuable feature, in any game, is going to be the wild. In this case, it's the one with the image of the assistant on it. Marked as a Wild, you will easily spot it, and notice when it's helping you out. It will do so as a replacement usually, being part of combinations when it appears 1 to 4 times on a line. If it appears five times, then and only then will it form its own combo, but the payout of 777x that results will be the biggest one of the slot.
Moving on to free spins, 7, 17 or 37 rounds are available, but first you need Agent X in 3, 4 or 5 symbols on the reels, scattered anywhere.
Agent X Mission is going to have a decent design for you, with a James Bond like theme as inspiration, but feature wise it's only a very average game.
Agent X Mission

gameplay video