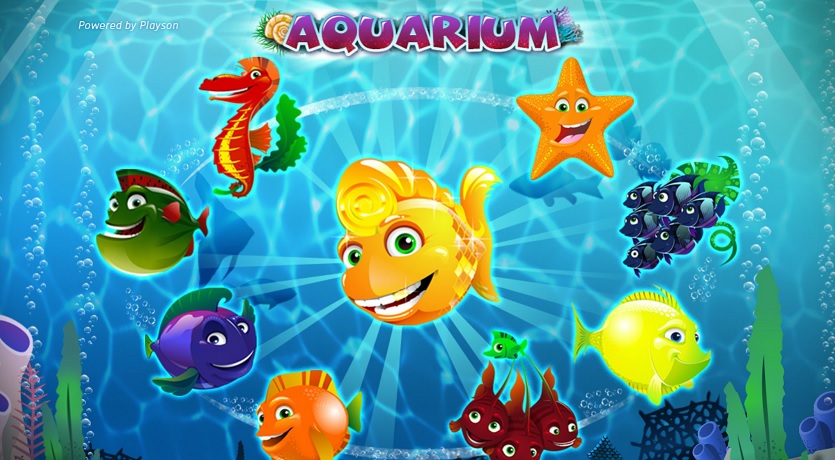 Aquarium is one of the Playson designed games, which is themed around life in an aquarium, as the title will be quick to let you know. The fauna consists mostly of different types of very happy fish, all of them smiling in your general direction. The game has 30 lines that you can work with, and its prizes will offer you up to $75,000.
The Aquarium theme is easy enough to figure out, even if the title didn't say anything about it. There are only Fish symbols in the game, all of them smiling at you, but of different types. They come in Gold, Orange, Red, Green, Blue and Yellow varieties, and they are both regular and feature symbols.
The betting system is the usual one, where you decide on the number of paylines and then on the bet that you will place on each one. Each of the 30 lines that can be active will get a line bet that goes up to $5 only, so the biggest wager is $150, no more.
There are a couple of symbols to watch out for in this game. First of all, we have the Seahorse, which will offer the biggest rewards that can be obtained from regular combinations. Up to 5,000 times the line bet, or $25,000, can be won this way.
Another great symbol to look out for is the scatter, which has the Starfish representing it. Being the scatter, it's going to pay you based on the total number of such symbols which are present, up to 500 times the total bet being won with its assistance. Multiply the $150 total bet with the 500x prize, and you get $75,000.
The final feature symbol is the Gold Fish, the wild of Aquarium, and the only symbol that doesn't offer a prize directly. It's only useful in its capacity as a wild, substituting for regular symbols only.