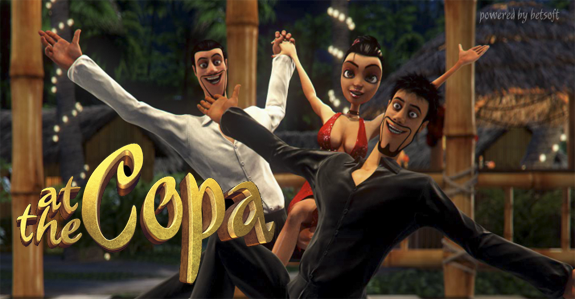 Get into the grove while enjoying a fun Copacabana theme and loads of amazing prizes in At the Copa. The colorful slot game is Betsoft's 5-reel online slot game packed with high-end software features including 3D animated characters. It boasts of 30 pay lines which allow you to earn a lot of extras when it comes to prize along with 10x multipliers. At the Copa also comes with a neat dance-off feature, which gives you the chance to earn free spins or win big.
The game is easy to play. Options come with clear labels including its Auto Play and Double Up which means you don't need to read the detailed instructions in order to know how to play the game.
Another great thing about the slot game is that it comes with a number of bonus features. There are Wilds which come in 2 different formats. These give you the chance to earn multipliers and re-spins. Free spins are also given up to 10x and some of these spins are awarded with multipliers. Best of all, the online slot has a progressive jackpot. It does not only offer one progressive jackpot, but three which gives you a greater chance to win big. These three kinds of jackpots each have its own unique feature that helps you earn a greater chance of winning.
So if you want to win big and have fun while online, then choose this colorful game. You will surely enjoy your time with its high-end 3D features and its loads outstanding prizes.