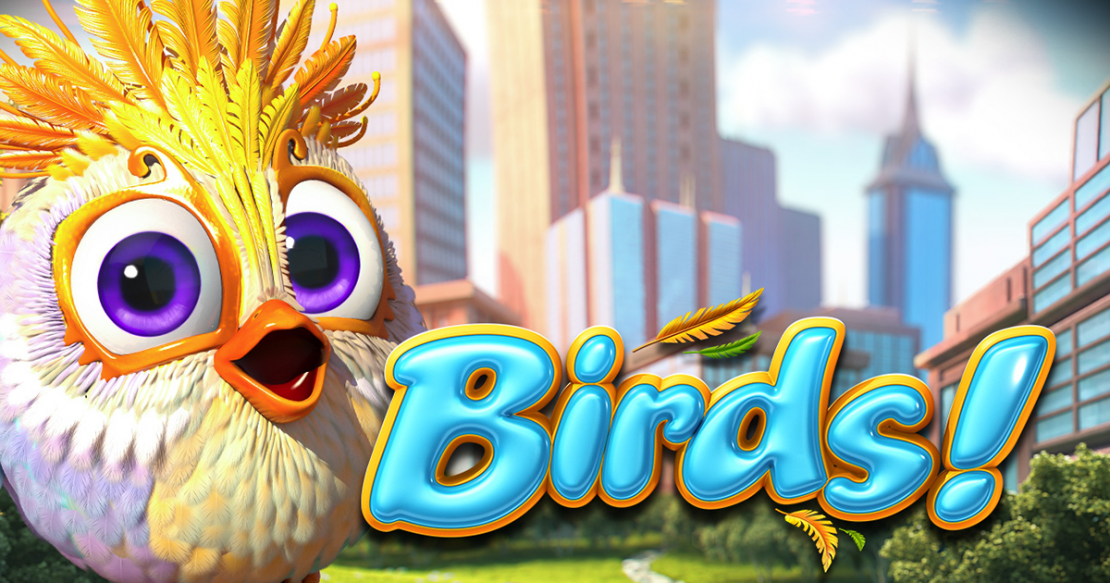 Birds comes from BetSoft, is a recent release, and it follows the apparently popular theme which shows off birds sitting on electricity wires.
Betsoft's latest release is a game called Birds, which once it loads up it will show you wires running from one wooden pillar to the next. On the wires, there are fifteen cute birds, colored in green, yellow, pink or orange, and smiling at you. It's a cute game, but not an unusual theme, a few other slot machines doing the exact same thing with their birds and reels. There are three wires, for the three rows of symbols, and the birds are arranged in five columns/reels, where they form combinations when they are linked up in chains instead of regular paylines. The jackpot is at $12,500 for five symbols, but it also could go higher thanks to the way the game is built.
It's a good design, with cute birds showing up on the wires, with a pastoral background image, and with that interesting chain system which replaces paylines. You see only birds on the reels, nothing else.
The slot asks you to wager on the equivalent of 25 lines, even though it doesn't have regular paylines. Each of these lines accepts a maximum of 5 coins, and their individual value can go up to $1. You get line bets of $5 at most, and the total bet can reach $125.
The way this game forms its combinations is through chains of 3 or more symbols. The symbols can arrange in horizontal or vertical mode, so you can form a combo out of the symbols of a single reel even. Symbols can't chain up in diagonal mode.
Each symbol which is part of the chain brings you payouts of up to 500 credits. With five symbols in the chain, expect 2,500 credits, or about $12,500. The chain should be capable of forming combinations even larger than 5 symbols though.
The wild symbol is a bird which can replace any other bird in a combination, and which can also form its own chains, paying up to 910 credits per symbol if it does this.
Each win that is formed determines the birds which are part of it to fly off the wires, new ones coming in to take their place. If this happens at least four times during a round, you get free rounds. 8 to 20 free rounds are offered.
I've enjoyed the chain system and the way it pays the player, and even the graphics are nice, though I found them a bit sluggish in pretty much every action I took inside.