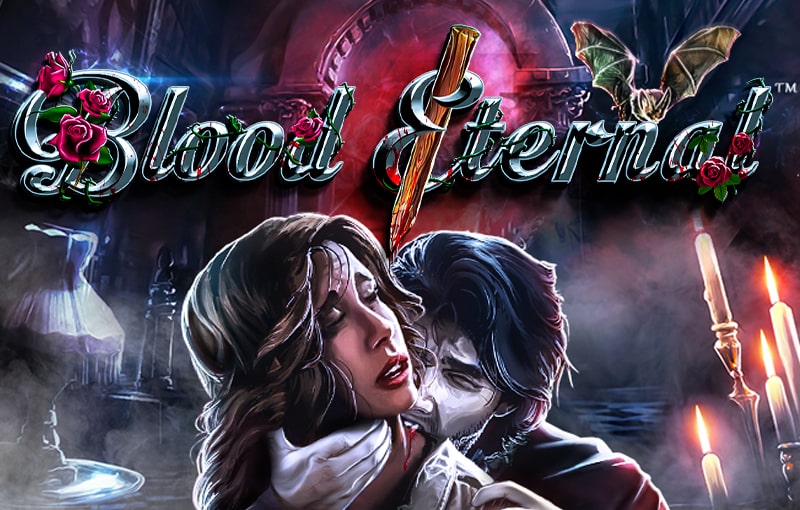 Blood Eternal Slot review
Vampires are back in style, and Betsoft is showing us their own idea for such a theme in Blood Eternal.
Blood Eternal brings back a theme that has proven quite popular with players in the past, that of the blood drinking vampires. The developer that worked on this game, Betsoft, is capable of delivering impressive results, particularly when it comes to graphics quality. They didn't do as good a job with this slot as they did with others in their collection, but it's still a high quality title. There is a dark atmosphere inside, with the light from some candles being the only way to see the spooky atmosphere inside the vampire's manor. On the reels, the images start out with symbols of Gothic style poker cards, but then they move on to crosses, holy water, images of castles at night, of gargoyles, bats and of the vampires themselves.
The jackpot that Blood Eternal promises will have a top value of $50,000. This is going to be a slot machine with 30 active lines, using 6 reels. Among the game's features, you will find the wild symbols, the scatters, free spins and the single/double Bats which play a major role in getting you the jackpot.
Given that you're playing a slot machine with 30 active lines, you may decide the bet per line, which concerns the number of coins selected, along with the coin value. You can use at most 5 coins per line, so 150 coins total. With coin values getting up to $1, you can end up placing wagers of up to $150 per spin, while the minimum can be as low as $0.30.
Wild symbols in this game are shown as a gold logo, with blood splattered behind it. You can have a combination formed just with these wild symbols in it, getting paid up to $3,750 in exchange for a combination of six. You can also use wild symbols as they're intended to be used, as substitutes for various other icons. They can't act as replacements for the free spins symbols.
Single and Double Bat symbols are present on the reels, allowing you to form combinations of more than 6 symbols, even up to 12 being possible. This is how you get the biggest payouts of the game.
Should a Vampire symbol find a Victim symbol, being both present on their own reels, you will trigger 8 free spins thanks to them.
Blood Eternal is an interesting vampire themed slot machine, where the features do a lot to convince us, along with the very dark atmosphere that was built around it.
Blood Eternal

gameplay video

https://www.youtube.com/watch?v=BOH1VU3RlUc