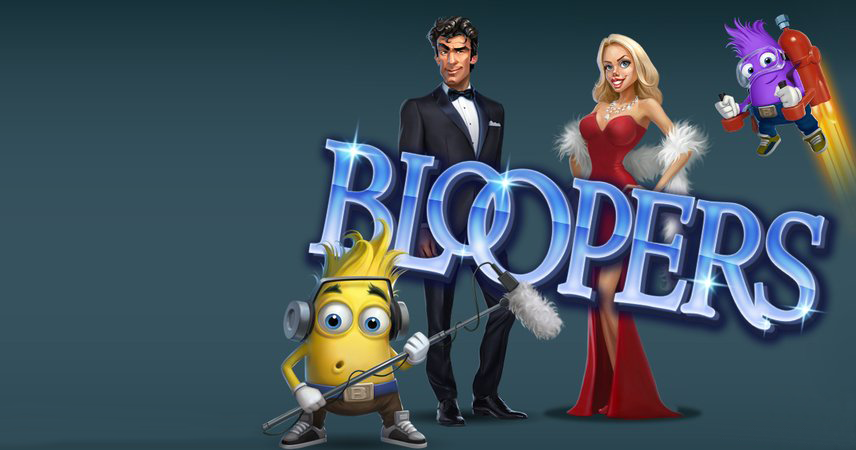 Bloopers, from ELK Studios, is a movie themed slot machine, with a modern design and 243 ways to win.
Bloopers looks like a game that would have been released recently, thanks to its modern graphics and the quality of the symbols used in it. The movie celebrity theme is not unusual for the slot industry, a number of other games being inspired by such a topic, but I'd have to say that this one is one of the better choices available on the market right now. The slot is the kind that places 243 ways to win on the 5 reels, instead of paylines. As for the jackpot, it's at $600, a pretty low amount.
The quality of the design is certainly there, no question about that. You have both playing cards which look a bit too much alike, and others that are well done symbols with pictures of movie clappers, movie stars with chiseled features and various cute creatures which act as bloopers.
The wager system is easy enough to work with. You click on the button which will take you to the wager value, and it's going to be a range of $0.25 to $100, with twelve different values to pick from. There are also multiple betting strategies that you can go with, or you can just use a fixed wager.
A Wild Bloopers symbols can appear while you play, and if you land it on a reel where you need it, a combo might form, provided that you have the rest of the matching symbols on the correct reels of course.
A Bonus Star symbol is going to be a trigger for the free spins feature. The scatter symbol may appear anywhere, and you need a minimum of three in order to get into the free spins mode. The free spins are very interesting, because if your luck holds out they can go on for a very long time. Female and Male Actors will act as sticky wilds when they appear on the middle three reels, while in free spins mode. In order for the bonus game to end, you need all the positions from those three reels to be made out of the sticky wilds (nine wilds total).
The Bloopers are characters that can appear during the game, and which are placed on one of the three middle reels while in free spins mode. These can bring you various features, including falling symbols, expanding wilds, additional free spins, symbol shuffles and random wilds.
Give Bloopers a chance, it's going to be a game that you will have fun with. The movie star theme has been done better here than in most other titles which sport the same type of action