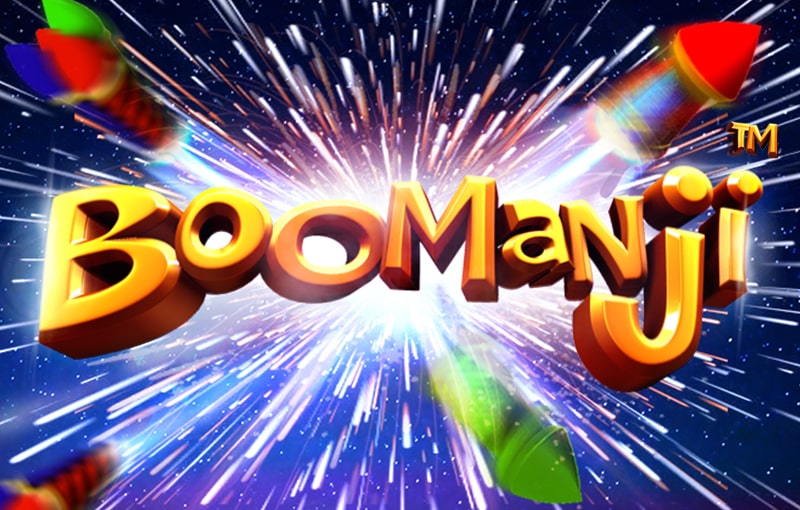 Boomanji is a simpler game than most that are designed by Betsoft, at least if we look at its number of lines, which goes up to 10 only.
Boomanji is a release offered by Betsoft, a game that appears to be heavily inspired by firecrackers and fireworks, both kinds being used to fill the symbol quota in this slot machine. There are only 10 pay lines in use, at most, and they have among their symbols rockets, turbo bombs, firecrackers and so on. They're colorful, they look dangerous, and they are offered alongside expanding wild symbols and free re-spins. The 10 lines of the game occupy 5 reels, and the large payouts possible can get as high as $2,500.
The game has a thing for fireworks, and it provides them in 8 different symbols. One of those symbols shows you the crate filled with the stuff, while the other 7 have all sorts of fireworks in them, colored in pink, blue, yellow, green, red or purple.
For a total of 10 lines, you need a minimum of 10 coins in use, if you want them all activated. You can increase the number of coins to be used per line up to 10 though, so the total bet can get even up to 100 coins. Because the denomination of these coins can be increased from $0.02 to $1, you can wager with up to $100 each round, but you can get away with bets of just $0.20 as well, and still you will have all lines active.
The game's feature list is not exactly long, but it does have a few interesting things to offer, which will all revolve around the same symbol, the wild. The wild symbol shows you a crate filled with fireworks and other similar toys. It's an expanding symbol, which is used on three reels, the ones from the middle columns. Whenever you have one of these expanding wilds on the reel, you can use it as a substitute obviously, and have more wins formed with its help.
Re-spins are also triggered each time one of these expanding wilds appears. Should you get extra wilds on other reels, new re-spins can be offered by the game. You can have up to three re-spins for free this way, since three reels can have the expanding wild.
Boomanji will not offer as much fun as other Betsoft games do, but I kind of dig its wild feature and the re-spins which accompany it.