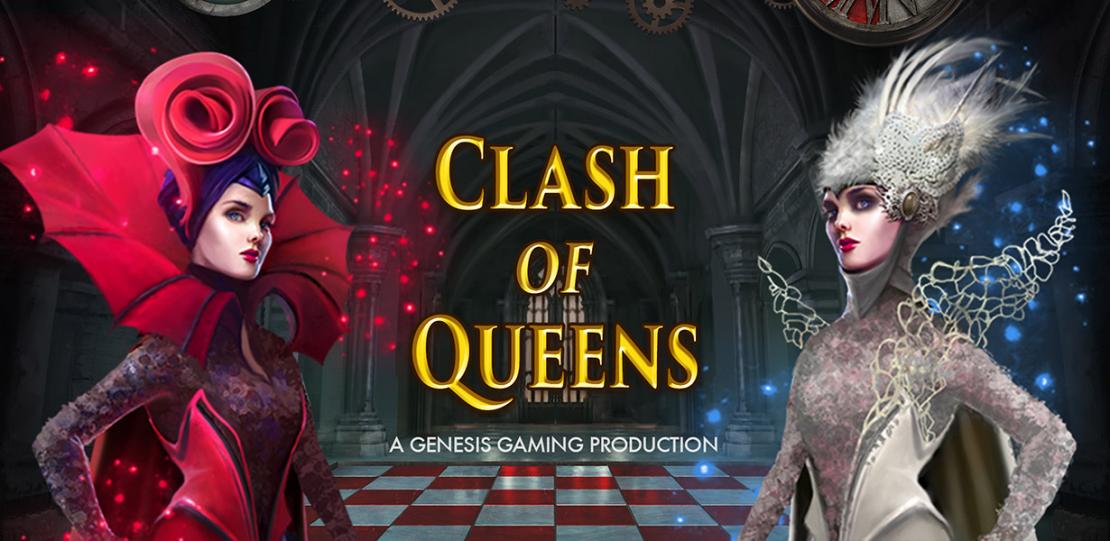 Clash of Queens

Slot review
Clash of Queens is both a chess themed title, and most importantly a slot machine which draws inspiration from the novel Through the Looking Glass, the sequel of the much better known Alice in Wonderland. While the first novel focused on playing cards, here we have chess pieces that take up an important role. The game offers 5 reels and there are 25 lines on them, with jackpots of $7,500.
Among the symbols which are used by Clash of Queens, we have some that are themed (White and Red Queens, Humpty Dumpty, Twiddle Dum and Twiddle Dee), but there are poker cards that are part of it as well. The themed portion of the slot can be a lot of fun, and the design quality is evident there.
It's an easy betting system to use. You get 25 lines, and on them you can wager anywhere between $0.01 and $10, which means that you can spend a maximum of $250 per round.
Let's take a look at the wild symbol first, with the image of a mirror on it, a feature that can bring you more wins by substituting for other symbols. You only get the wild on the last four reels, but it does double the prize of the combo it's a part of, so it makes up for its shortcomings.
Whenever you land the Clash of Queen logo in at least two positions, you will also see a prize. 2x to 50x the triggering bet is awarded for two to five of these scattered symbols.
Finally, we have the Battle feature, the one where the two Queens fight.  To trigger it, you need the Red Queen on the 1st reel, with the White Queen on the 5th. You pick your side, and you get free spins from the Red Queen or a bonus feature if you went with the White Queen. If your Queen won the battle, you get a little bonus for the upcoming feature (more free spins or a 2x multiplier for the bonus game).
Play
Clash of Queens

here