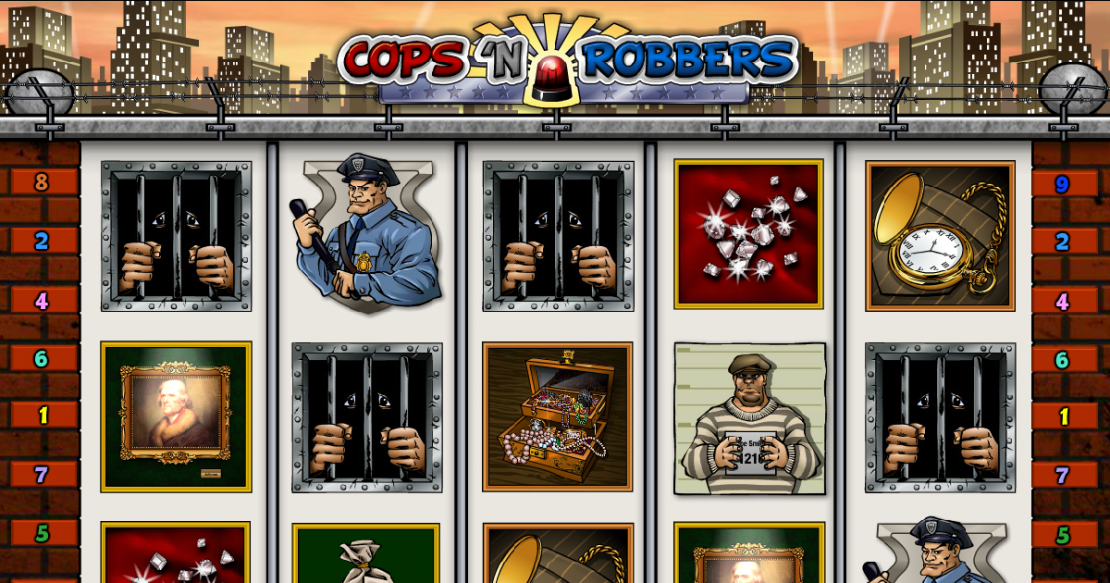 Cops n Robbers Slot review
A game of cops and robbers, this slot has a classic theme for a modern slot machine, quite a few others sporting the same type of images.
Once the game screen loads, you will find that the Cops n Robbers theme gives you a bit of a mixed message. The five reels have steel bars between them, and they're placed against a brick wall with barbed wire at the top. It gives you the impression that it's about a prison based on all that, but on the reels you get the idea that it's about a robbery. Only 9 paylines are used on the 5 reels of this game. The jackpot is at 3,000x, meaning up to 15,000 coins.
Based on the design of some of the symbols, especially the police car, the action doesn't seem to be recent, more like something you would've seen about five decades ago. You see the cop and the robber among the symbols, with handcuffs, paintings, jewelry boxes, vaults and other related images. Luckily, only themed symbols were introduced in this game.
The bets you use in Cops n Robbers have three components. You have the number of lines, which is up to 9, and then there are the coins per line, which are between 1 and 5. Finally, you get to pick the denomination of the coins, which start at $0.01. The maximum bet has 45 coins in it.
The main feature which Cops n Robbers puts in front of you would be the one that brings you the top jackpot, even if it's not the most spectacular one. It pays at 3,000x when a combination is formed only out of wilds. Wild symbols on their own are used as replacement icons, to form combinations that don't have everything that is required on the payline.
The Police Car is the scatter in this case, a symbol which can appear in any position. The game looks at how many of them are on the reels, and rewards you with payouts of 2x to 250x the triggering bet.
The Car Chase Bonus also gets triggered through the same scatter symbol, when 3+ are in position. Manage to escape the police during the chase, and you get free spins with 2x multipliers as a reward.
The game's theme is the biggest downside I can see, the quality of the design being only average. It does quite well feature wise though, and even when it comes to features.