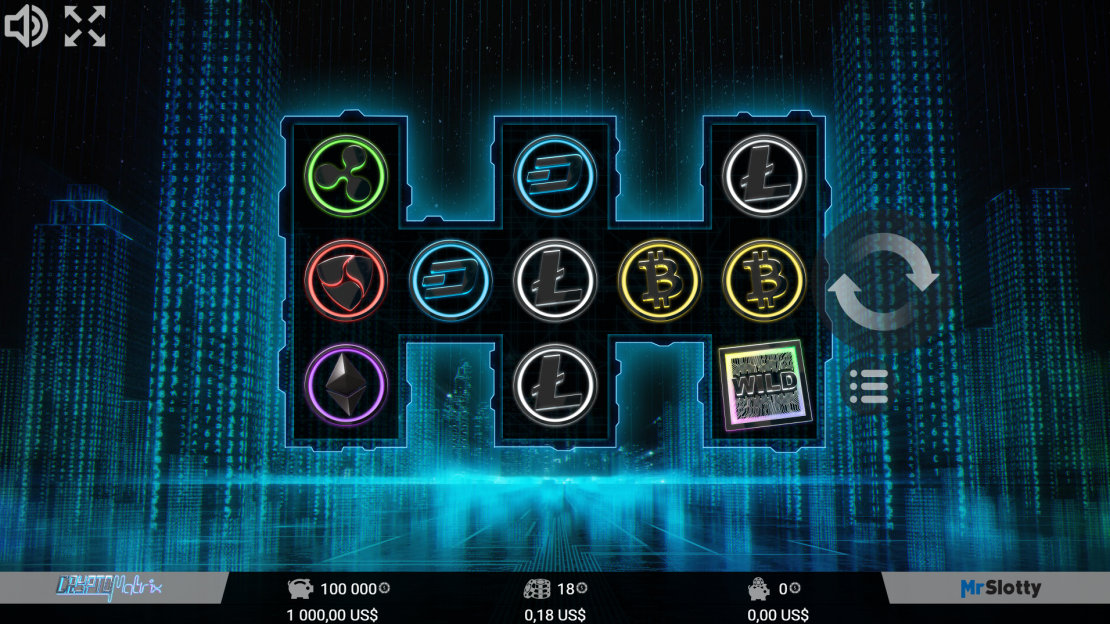 Crypto Matrix Slot review
Crypto Matrix is a game that's dedicated to crypto-currencies and it's placed in a Matrix-like environment.
Coming from MrSlotty, Crypto Matrix has one of the more relevant themes for our days that I've seen so far. It's inspired by the cryptocurrency trend and its symbols will often revolve around the logos of these new currencies, such as Bitcoin, Ethereum or Dogecoin, among others. The formation of the reels is unusual as well, with reels 1, 3 and 5 holding 3 symbols each, while reels 2 and 4 have only 1 symbol. Forming a combination isn't that easy when you're dependent on that one symbol from reel 2 to get anything. The outer area of the design is showing a Tron-like environment with Matrix-inspired characters appearing on big skyscrapers of data. It's a regular digital highway that is shown here and the game looks as high-tech as it can get.
On the 5 unusual reels that are employed in Crypto Matrix, there will be a maximum of 18 active lines present. Despite the design, this is not a very complex game, featuring free spins, scatters and wilds for its features. Payout wise, its best combination can pay $1,500.
Full control is given over the number of active lines and the bets that can be placed, as long as you stick to the available limits of course. You can set up 18 active lines at their highest, while line bets can vary between $0.01 and $1. Those options will allow you to set up bets as small as $0.01 or as high as $18 per spin.
The feature symbols end up with markings on them here, so you can tell when you get a Wild or the Free Spins trigger.
From the Wild, you can almost always just count on it being a substitute. If there are other regular symbols on the same line as it is, then it will form a combination with it, not its own. However, if all positions of the line are taken over by wilds, then it will pay the jackpot and form its own win, offering 1,500 coins. Wilds will not be replacements for scatters.
The scatters of Crypto Matrix are used to activate 15 free spins, and if you get 3+ symbols in view, the feature will be yours.
Crypto Matrix has a very relevant theme, a modern design and a very simple set of features. If this mix pleases you, give the slot a shot, particularly if you're interested in the crypto market.
Crypto Matrix

gameplay video