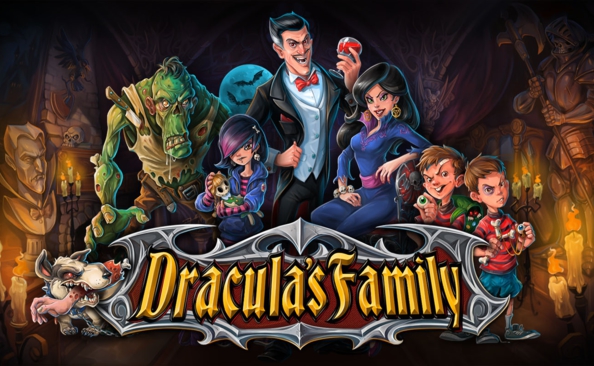 Dracula's Family

Slot review
Dracula's Family takes a look at a topic that was covered by a lot of slots in the past, the vampire with the same name, but now we get the members of his family as well, and that's a unique angle that I don't remember seeing anywhere else. The game has a fixed number of 15 paylines in use, with rewards going as high as $8,750.
The game might be themed around Dracula and his family, but it could just as well be inspired by the Adams Family if you go by the way the characters were designed. You get the attractive wife, twin boys, the rebel girl and Count Dracula of course, which looks like a regular guy for the most part, though a slightly evil one. There are also all sorts of monsters, headstones, covered mirrors and skulls that are used alongside the poker cards.
The bets of Dracula's Family start at $0.15 and can go up to $75. You have 15 lines which always need to be active, with just as many coins in use for them. The coin values are the ones that you work with, taking them as high as $5, which allows you to place a bet of up to $75 each round.
If you want even more excitement than the game can offer with its graphics, the features would be the ones that can offer you that part. The wild symbol is the one that has the Twin Boys in it, the one that can be part of combinations where regular symbols get together. The wild will substitute for the one that is missing, should it land on the payline where it is needed.
The Dracula's Family Logo is a scatter, which appears on three reels and which is needed on all three in order to get you a prize of 5x the bet and the free spins.
With the free spins active, you can get a Bonus symbol which shows both Dracula and his wife, marked Bonus. It can bring you the biggest payouts of the game, valued at 1,750 coins.
Play
Dracula's Family

here