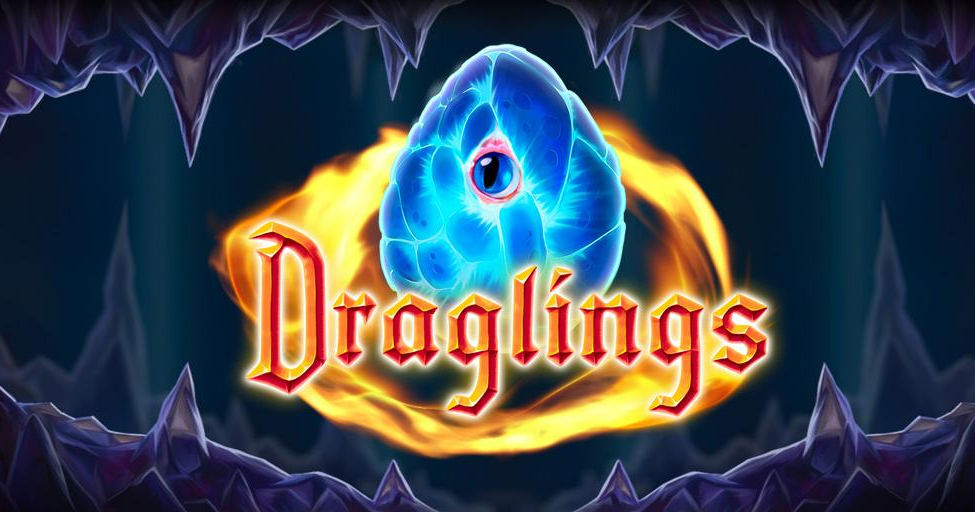 Draglings is a game that's about dragons and about their eggs, taking you from the earliest stage of their development to the full sized creature, depending on the symbol you're looking at.
In Draglings, the action seems to take place inside some sort of cave, one where dragons lay their eggs. The majority of the symbols seem to be with dragon eggs on them, with different colors and textures to their surface. Besides the eggs, you will encounter baby dragons and fully grown adults, though those would be the ones with special abilities. The slot offers 20 lines which pay both ways and it has a prize of up to $750.
The idea is not a bad one, taking you through the evolution of the dragon, from egg status to adult, but there is not enough emphasis on the coolest part, the one where the creature can actually inspire fear and breathe fire.
The betting that is done in at least some of the slots from Yggdrasil, will cover as many as 20 lines, but since they pay both ways they will say that the game has 40 lines. The wagers will reach a maximum value of $1 per line, or $40 total per spin.
While the four egg and four non-hatched dragon like symbols give the player regular combinations, the ones with baby dragons and adult dragons will bring with them wild features.
The blue baby dragon is a regular symbol with wild abilities, allowed to substitute for regular symbols only. With the red baby dragon, you're getting a spreading wild, which can turn 1 to 4 other symbols into some type of wild. Finally, we have a purple baby dragon which expands on the reel and turns into an adult dragon. This is the expanding wild obviously.
The only other feature symbol is the scatter with a Free Spin logo, which may appear anywhere in the game, and it will trigger free spins when there are 3 or more present. To trigger the initial feature, you need 3, 4 or 5 scatters, and you get 10, 20 or 75 free spins. To retrigger it, you can do it with as few as two scatters.
With its features mostly, and with its theme as well, Draglings might convince some players to try it out, but the payouts are not impressive enough. One extra advantage it has is that you get a chance to win up to 75 free spins in it.