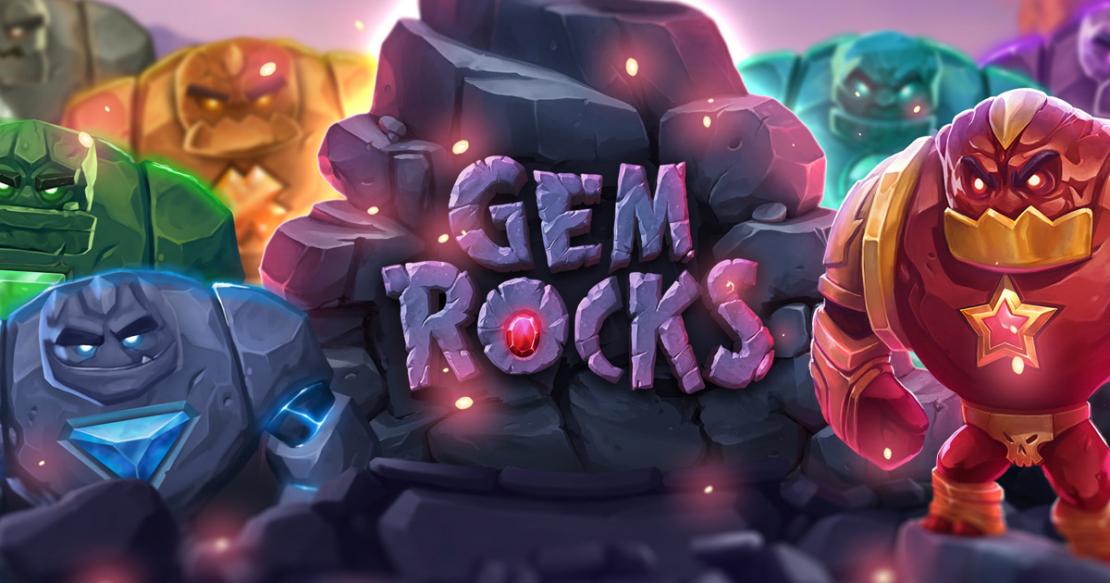 Gem Rocks is a gemstone themed game, but Yggdrasil Gaming managed to turn it into something interesting anyway, with the help of its layout and features.
Gem Rocks is not the best sounding title for a slot machine, since gemstones are such common choices for these games, that they're not very interesting anymore. However, Yggdrasil Gaming didn't set out to just create just any old gem themed slot here. They went with more reels and unique features, along with modern graphics, and as a result I'm a bit impressed with what they came up with. You have a set of six reels for one, the columns being encased in rock formations which have the logo on one side and a multiplier ladder on the other. As symbols, you see gemstones that are cut in different shapes, and then set in stone. The gems are slightly lighter in color than the stones in which they're set, but they're quite similar otherwise. It's a good-looking design, nothing to complain about there.
Because the slot gets 6 reels and 4 symbols per column, you end up with 4096 ways to win. $200 is the most you can get out of a single way to win, but luckily there are thousands of those present and capable of paying you. Two types of features exist, the Dropdown Wins and the Gem Rock, so you don't get any of the standard wilds or scatters in this case.
50 coins are going to be required each round, a sufficient number to cover the ways to win employed in the slot. You set up the coin value, and so you end up with total bets of $0.50 to $50 per spin.
One easy feature in a game like this is the Dropdown Win, which is triggered if you get any sort of winning combination to form. The winning symbols get removed, new ones will land in the empty positions, and that might bring you a new set of wins.
If you get multiple dropdown wins in a row, during the same spin, then you will notice the left side meter as it fills up. With 2, 5 or 9 consecutive wins, the game will deliver to you the Gem Rock feature, which gives you a symbol sized at 2×2, 3×3 or 4×4 positions, all with the same type of gemstone.
Gem Rocks looks like an entertaining game, with good graphics and unique features, which manages to get past the disadvantage of having a gemstone theme.