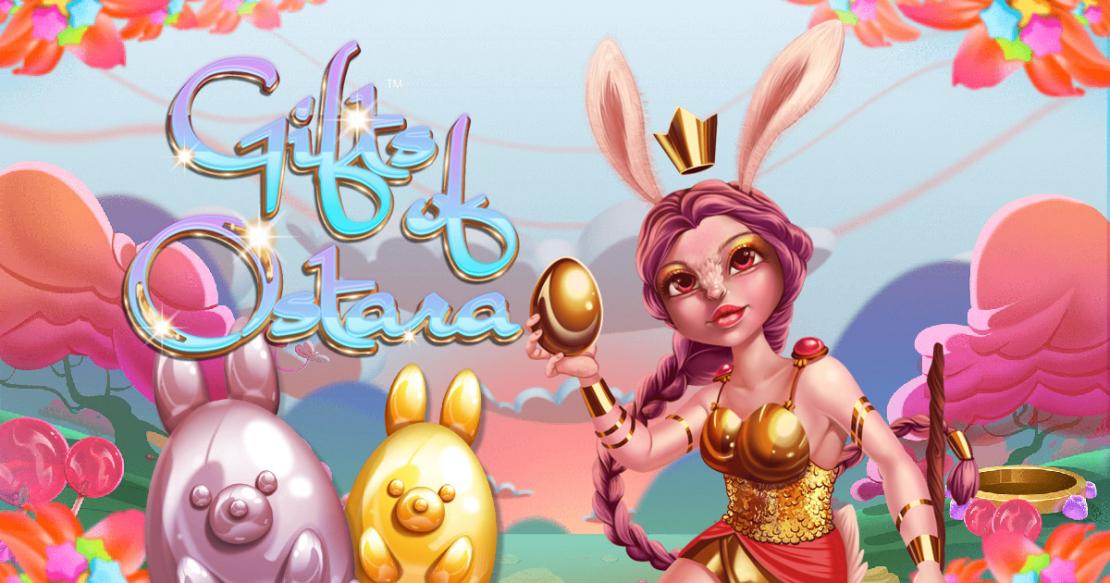 Gifts of Ostara Slot review
"Gifts of Ostara" mixes two different themes, which normally don't belong together, focusing on fairies and Easter eggs.
In Gifts of Ostara, Iron Dog Studio went with a theme and design that aren't normally connected to each other. On one hand you're going to notice the beautifully decorated Easter eggs (with poker card letters on them) and the rest of the sweets that are part of the symbol line-up. On the other, you have a fairy like creature, with bunny ears, so presumably she's the Easter fairy. The graphics are high end, just like they should be from a small developer that's trying to prove what it can do. The action takes place in a magic land, with almost abstract looking trees shown in the background. Everything is designed with lively colors and quite attractive. Bet multipliers of up to 30x, free respins, scatter symbols and multiple types of wilds are present, so the feature list looks great. It's a game that has a total of 20 lines active, on 5 reels. Its big prize gets up to $4,000 normally.
The slot will always have its 20 lines active, so it will only give you the option to change how much the individual bets are worth. The total bet is selected by the player, within the range of $0.20 to $40 that is possible. The line bet would be from $0.01 to $2 in that range.
The most special feature offered here is the Golden Egg, which will trigger a random feature for you. Depending on what symbol it shows, you can get prizes and features activated.
If you get the Silver Bunny, you're going to have one free respin that you can use. From the Golden Bunny, the reward will be a bet multiplier of 30x. There is also a Pink X symbol, which gives you a win multiplier of 2x to 10x.
The same Golden Egg can also trigger three different types of wilds. One of them is the expanding wild, which shows you the fairy with bunny ears. Another one is the regular wild, which expands on one of the middle three reels. The Sticky Wild is even more fun, since you get from it an expanding wild locked on one of the middle reels, plus 3 free spins to use it on.
Free spins may also be triggered with the help of three egg symbols, if they appear on the same row. 10 rounds are offered then.
Gifts of Ostara is a great title to play for the Easter holidays. It has fun graphics, it has some unique features and its theme idea is quite unique, thanks to the presence of that fairy.
Play
Gifts of Ostara

here