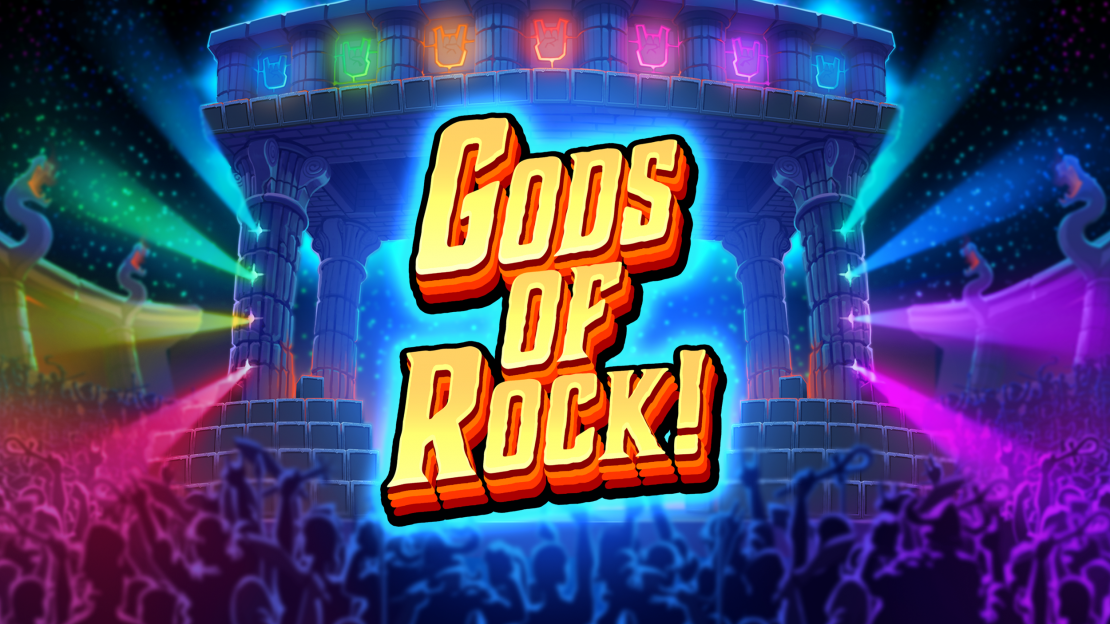 Gods of Rock! Slot review
Gods of Rock! by Thunderkick is a striking blend of mythological themes and rock music, a unique combination in the world of video slots.
At its core, Gods of Rock! is a 6-reel slot offering 466 connecting pay ways. It's not just the reel structure that's innovative; the game incorporates a dynamic mix of features like Wild symbols, Reel Multipliers, Wild Encore, and a captivating Bonus Game with free spins​​. The game's volatility, measured at 1034, ensures a thrilling experience, while the max exposure of 20000x suggests substantial win potential​​.
The design of Gods of Rock! is an exhilarating fusion of rock concert aesthetics and mythological deities. Characters like Lucifer, Thor, Athena, Anubis, and Medusa take center stage as high and mid-value symbols, while the lower spectrum includes classic card symbols (A, K, Q, J, 10, 9) and a Wild symbol represented by The Horns​​. This artistic direction not only makes the game visually appealing but also adds a layer of narrative intrigue.
When it comes to features, Gods of Rock! shines with its innovative mechanics. Wild symbols in the game, which substitute for all other symbols, come in two states: Charged and Regular. Charged Wilds play a pivotal role in the game's most engaging features. For instance, every Charged Wild landing on a reel enhances the corresponding reel multiplier up to a maximum of 11. If multiple reels with multipliers are part of the same win, their multipliers are multiplied together, significantly boosting the payout potential​​​​.
The Charged Wild also triggers the explosion of surrounding symbols, a feature that can radically transform the game board and lead to new winning combinations​​. This cascading effect, coupled with the increasing multipliers, creates a dynamic gameplay experience where each spin can significantly alter the game's landscape.
One of the standout aspects of Gods of Rock! is the Bonus meter. Filling this meter by exploding Charged Wild symbols unlocks the Bonus game, awarding the player with 8 free spins. The game's strategic depth is further enhanced in the Bonus game, where the meter doesn't reset until full, and each time it's filled, an additional 3 free spins are awarded​​​​.
The Wild Encore feature is another exciting element. Triggered when the Wild Encore level is reached, it randomly places 1-3 Charged Wild symbols on the reels, setting the stage for potentially significant wins​​​​.
In terms of gameplay, Gods of Rock! offers an auto-play option, and the game round starts with the action button, maintaining the player's selected bet level throughout​​. All wins are calculated and presented in the selected currency, ensuring clarity and convenience for players​​. The game also maintains fairness; all game rounds and win combinations adhere to the paytable, and in the event of a malfunction, all affected bets and pays are voided​​.
In conclusion, Gods of Rock! offers an exhilarating blend of innovative features, thematic design, and potentially lucrative game mechanics. It's a slot that should appeal to those who enjoy a mix of mythology and rock music, coupled with the excitement of dynamic and potentially highly rewarding gameplay.
Gods of Rock!

gameplay video