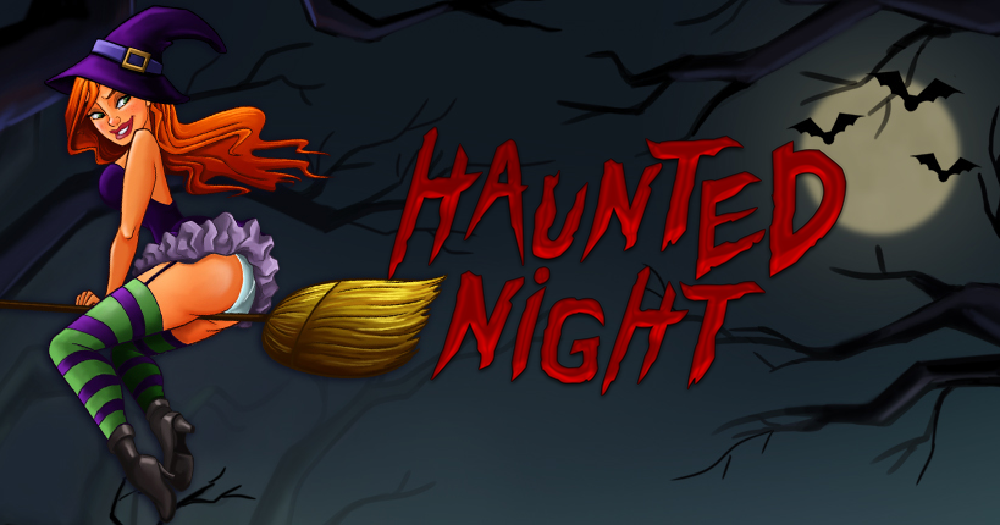 Haunted Night Slot review
Haunted Night is a game that takes Halloween to a whole new level, aiming for being scary, instead of cute.
Haunted Night has exactly the kind of scary design that a slot machine should have when it's themed around a holiday like Halloween. There are all sorts of things that are witch related inside, including black cats sitting next to human skulls, cauldrons with potions, headstones, ghosts and lady death going across the screen once in a while. The design doesn't aim to look cute, the way many Halloween themed titles do, but it has one special element that stands out as well, a sexy witch. You will find on its 5 reels a total of 243 ways to win, and you can take home up to $2,500.
While it's not the best design ever, the slot has its own attractive side, and it mostly revolves around the sexy witch character, shown riding on a broom in a very short skit. The other symbols show ghosts, carved pumpkins, black cats, plus the usual collection of playing cards.
There are 25 coins in the minimum bet used here, while the maximum one needs 125 coins. 1 to 5 coins are chosen for each virtual line, used to replace the ways to win for wagering purposes. Each coin has a value that you pick, the range being from $0.01 to $0.50. The most you can spend on one line is $2.50, while for the total bet the value will go up to $62.50.
A wild symbol is shown on the reels, and it takes the form of a blue logo. The reels which can take it are the 2nd, 3rd and 4th ones. Wilds can't substitute for scatter symbols.
The first scatter is the Haunted Night Logo, which when appearing on the reels 1, 2 and 3 will bring you a Haunted Free Spin feature. You pick what kind of free spins you want, the options include 15 rounds with 3x multipliers, 10 rounds with 5x multipliers and 5 rounds with 10x multipliers.
The second scatter has a gravestone on it, and it's marked Bonus. Once again, three are needed, and there are specific reels on which they have to appear (3, 4 and 5). The Gravestone Pick bonus starts up when the requirements are met. You basically click on gravestones and you get coin prizes, or a Collect message that ends the feature.
I'd recommend this game mostly at Halloween, it doesn't seem impressive enough otherwise. It has a few good features, but its payouts don't impress and the design feels old.