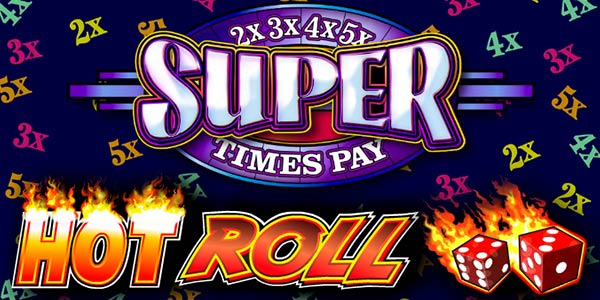 Hot Roll Super Times Pay

Slot review
This is an online slot game that is offered by IGT and which mixes the classic system with big multipliers and other cool features, but keeping the same dated design.
Hot Roll Super Times Pay indicates with its title what kind of features it will offer you, and that's probably the best part about this game. It's a pretty average looking slot machine otherwise, which is themed around the classic pub slot, using Bar symbols and 7s for the most part. You will find that there are only 3 reels and yet the game manages to place 20 paylines on it, so the odds of winning something are quite good if you have the right symbols. The payouts mentioned inside will go up to $500,000.
You're not going to be impressed with the design that Hot Roll Super Times Pay has for you. The look is that of a classic slot machine, which sports 3 reels, but the difference is that this game has up to 20 active lines each round, while older games offered 5 at most.
The bets allow you to choose both the number of lines and the line bet. It goes up to 20 lines for the former, and up to $100 per line for the latter. Wagers of up to $2,000 are possible as a result, which is no small amount.
There is no shortage of features in this game, and that's one of its biggest strengths. The wild multipliers are the stars here, symbols which have numbers of 2x to 5x on them, and can apply multipliers whenever they are substitutes for other symbols, helping you form some new combination. They can substitute for the symbols with Bar or 7 icons. Multipliers of 3x to 5x are offered only on the 2nd reel.
Something I enjoyed with these wild symbols is that they can combine their multipliers. You can have two wilds in a combo of three symbols, so you can expect multipliers of up to 10x, though obviously you'd need to be extremely lucky to get that much.
Some of the regular symbols will appear with a Hot Roll Logo placed over them. If you get the three symbols required for this, all of them with that logo, a Hot Roll feature starts up. You roll dice in this feature, and you win up to 10x the triggering bet.
I'd expect a different experience from this slot, compared with the one from other classic slots, but I'm not sure that most people will have fun with it, if they're used to the experience of a modern slot.
Play
Hot Roll Super Times Pay

here
Hot Roll Super Times Pay

gameplay video