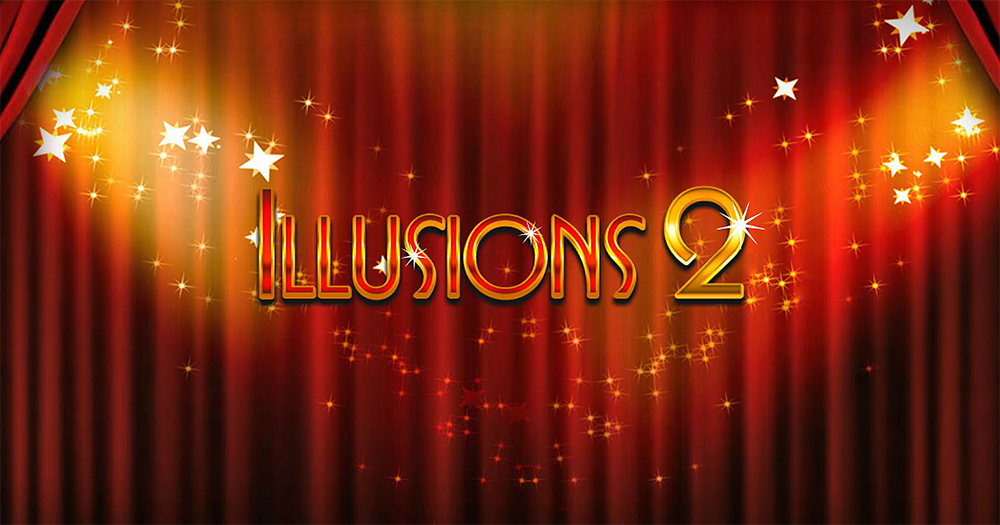 Illusions 2 is the kind of game that will appeal to fans of classic magic, with the action revolving around tricks that everyone knows by now.
iSoftBet is behind Illusions 2, a slot machine where the magician and his lovely assistant will show you a range of magic tricks, the kind that you've seen countless times before. There are magic orbs, rabbits coming out of hats, white doves and perhaps a few too many playing cards. The slot's 30 paylines are placed on the standard 5 reels, and with the maximum bet you can win up to $200.
There are a few symbols in this game which looks just great, and I'm talking here about all the icons which have themed images on them. That level of quality doesn't extend to the symbols with playing cards on them unfortunately.
There are more coins used in the wagers of this slot than there are cents in the coin value. You can use only two types of coins, worth $0.01 or $0.02. However, the game accepts up to 10 coins on a single line, so with 30 active lines you end up using bets of up to 300 coins. Even so, the maximum wager allowed is at only $6 per spin, which explains why the top payouts are so low.
The Magician is the bonus symbol, a scatter which you need to get in any random position a minimum of three times in order to trigger its feature. The Illusions Bonus will give you a maximum of 15 free spins. These spins come with Trick symbols, three types which have logos with the word Trick on them. They can expand, and they stay in place until the free spins are over. These tricks are used as wild symbols, capable of replacing only regular icons.
The wild multiplier symbol shows an image with two hands that have white gloves and holding a wand. You can see multipliers of up to 5x in its image, and that's what the symbol can do for the win in which it participates. Even better, if you have multiple wilds on that same payline, they multiply each other and can bring you huge payouts, at least compared with those that you get initially.
The Illusions 2 logo is the scatter, which will pay 5x to 25x the bet, whenever you have three to five such symbols on the 5 reels.
There are very good features and multipliers inside, along with low wagering requirements and beautiful graphics. You have plenty of reasons to try it out, even though it's such a common theme.