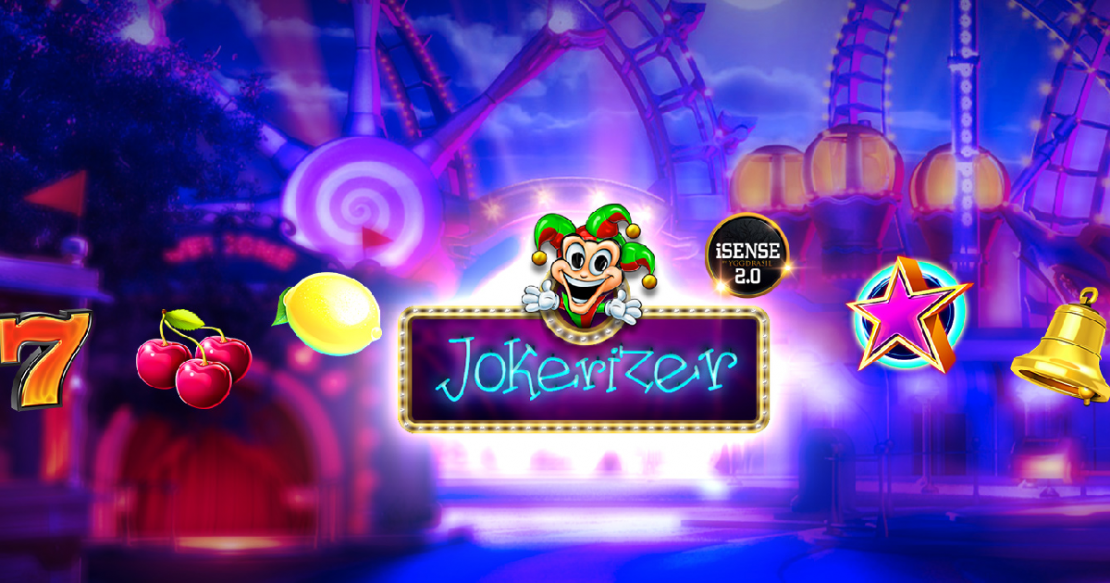 Jokerizer is a modern game with a classic theme, its reels being filled with bells, fruits and sevens.
Jokerizer seems to be trying to make the classic theme a bit more appetizing, bringing it here in a design that seems modern. The symbols found on the reels are mostly classic ones, but looking prettier here than in 99% of the 3 reel slots you might've tried them on. The game claims that it has 10 paylines, but it's a bit of a lie, actually using 5 lines which pay both ways. It promises a top payout of $12,000.
There isn't much to say about the theme and the design. It's a classic one on the reels, with grapes, lemons, cherries, sevens and golden bells, while in the background you have the entrance to an amusement park.
You have the 10 lines which the game claims that it uses, but since there are only five trajectories for the symbols to be on, I'd call that a lie on Yggdrasil's part. The 5 paylines which they use can form their combinations either going from the left, or from the right. They ask for 10 coins each round, with the denomination going up to $2. You can wager up to $20 per spin.
The slot's small number of paylines will not bring you too many wins, but at least you can expect to get multiple combinations formed at the same time when you do have at least one. The reason is the presence of stacked symbols, which make the game more difficult to get wins from. On the plus side, only six regular icons are used, while other slots have ten or more.
The Joker symbol is a scatter, which is used as a trigger for a Mystery Win. The Mystery Win requires the presence of three such symbols at the same time, in any position. You can get between 1,000 and 6,000 coins from this feature. If the Jokers are aligned, either diagonally or horizontally, you always get the maximum amount of 6,000 coins.
A Jokerizer mode is also part of the slot, where you have a higher chance of winning than you do in the base game. More Joker scatters are present on the reels, and you can get a Mystery Win of 200 to 6,000 coins with just two of these symbols. You can enter Jokerizer mode by using your winnings, at 20 coins per spin.
The game has its advantages, and it's far from a typical 5 reel/5 line slot machine, but it has some downsides as well, like the classic theme, the lack of features or the low payouts.