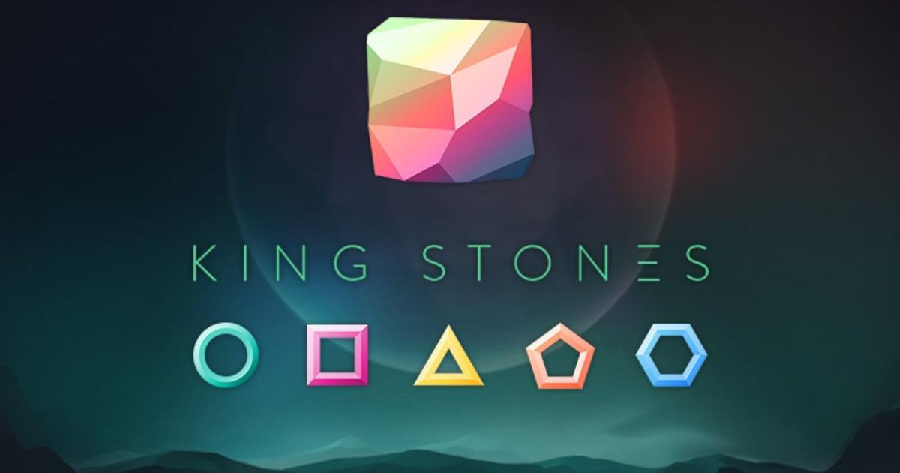 The theme in King Stones is not easy to pinpoint, with its symbols being various geometric shapes and diamond like square shaped stones.
Relax Gaming is the creator of this slot machine, which has an unusual looking design, the symbols consisting of squares, triangles, circles, pentagrams and diamond like cubes which have multiple faces. Look in the background, and it doesn't get any easier to understand, the image there being one from above the clouds, with a big full moon in the distance. As for the layout that the game offers, that would be a setup with 25 win lines and with prizes that will go up to $1,000.
I've mentioned above what you can see when you look at the game screen, the mix of geometric shapes and diamond like cubes with multiple facets. The game does it all in a modern style design, which even though it seems a bit too simple, still looks attractive. Both regular symbols and high value ones can appear on the reels, along with a wild which is the only one to look irregular shaped. Some of the symbols appear larger in size, taking over up to four positions in a square formation, from two reels.
The bets always have to cover all the available paylines, so at least you don't have to worry about modifying that part. You choose only the total bet, which starts at $0.25 and can reach a maximum value of $50. The line bet in that case would be set to $2, with the minimum being $0.01. The biggest prize which is mentioned by the paytable gives you 500 coins back, the value being at most $1,000.
The symbol which has the ability to substitute for any other symbol is going to be the wild, in this game and in any other that offers this type of feature. The symbol is not that different from the other cube shaped stones, but it's a bit more irregular shaped, so it doesn't look as neat as the others. You can use this symbol as a way to form more combinations of regular symbols, both low and high value, or you can get it as its own combination, with three or more symbols and going from left to right. It will pay up to 500x when this happens.
The game seems very unusual at first, but if you take a look at what it really offers, you will notice that at its core it's a very simple slot machine.