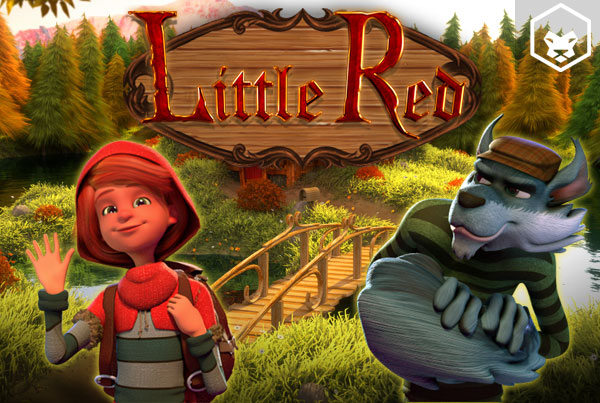 The story of Red Riding Hood is well known, being something that most of us grew up with. It's the topic that Leander Games chose to focus this game on, showing you all the main characters that you're used to, from Little Red, to the Big Bad Wolf, or the Granny. The game sports 25 paylines total, while the prizes can bring you up to $37,500.
The story of Red Riding Hood tells us how a girl goes to visit her grandma, who is sick. She carries a basket filled with goodies, and she's going through a forest to reach her grandma's house. The big bad wolf eats grandma unfortunately, and he's waiting for Little Red as well. This is the story that the slot machine will tell you, with beautiful modern graphics and animations that will breathe life into it.
Like in many other games, you have no option to change how many of the 25 lines are active, so you bet on all of them. To modify the bet value, you use the arrows from the Bet section at the bottom, taking them from the $0.25 minimum, to a value as high as $125. The value considered when the prizes are calculated, the line bet, goes up to $5.
The best possible outcome in this game would be to land a full payline with wild symbols, which are the ones with the Picnic Basket on them. You would get paid 7,500 times the line bet if that happened, the value going as high as $37,500. This being the wild symbol, when it doesn't create combinations of its own it tries to assist you by substituting for other symbols.
One very cool feature, which allows you to help Little Red advance towards the granny's home, is called "To Granny's". Whenever a log symbol appears on the reel closest to Little Red (which is shown on the left side of the reels), it will fall into the water below and she will use it to advance by one step. You get it on the 1st, 2nd, 3rd, 4th and then on the 5th reel, and you complete the feature when this last step happens, getting a Picker Bonus. You are asked here to choose the paths that Little Red should take to reach the house of Granny, and in return you will get prizes.
The Bonus symbol is the one responsible for the start of the free spins feature. Showing you Granny's House on it, it will give you 3 spins for free, if you have this symbol on the reels 1, 3 and 5 at the same time.