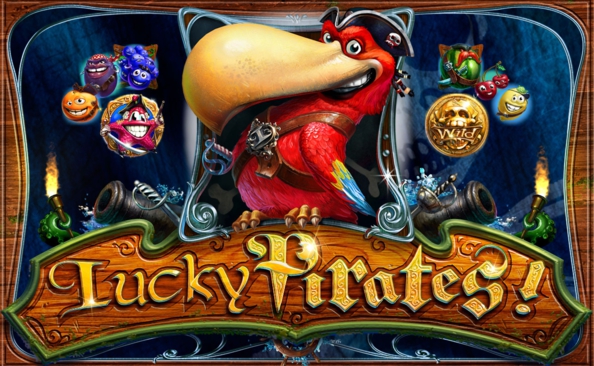 Lucky Pirates

Slot review
Lucky Pirates is a pirate themed game, where fruits become members of a crew ready to plunder and pillage.
Lucky Pirates is one of the more unusual titles you will find if you're looking at the pirate category. Slots with this kind of theme don't have fruits in the main roles, the way this game does. Created by Playson, it sports cherries, lemons, oranges, blueberries and other similar images, all of them dressed up as pirates, with earrings, eye patches or armed to the teeth. By the looks of it, the crew even has a parrot as a captain. 9 paylines are part of the 5 reels, and their payouts can bring you up to $5,000.
The design of Lucky Pirates looks like a lot of fun, even though it's not the typical look for such a game. The pirate bit they did well enough, the action taking place onboard a ship, with rope and masts acting as borders between the reels. The symbols are the unusual ones, turning fruits into members of the pirate crew.
The bets you use in Lucky Pirates go only from $0.01 to $9, depending on how many lines you want to use, and on the coin denomination. You get up to 9 paylines active each round, with individual coin values going up to $1. It doesn't bring you a lot of wins each round, but you don't pay too much to play it either.
The symbol with the golden skull has the role of a wild, which is a feature that tends to bring you more wins if you play long enough. A wild is the joker of the slot machines, the one that can be part of a combo of matching symbols, substituting for one of them. Wilds don't replace scatters, at least not in this game. They also don't seem to give away their own prizes here.
The other symbol which seems important to the game is a star fish that is dressed like a pirate, holding a pistol and a sword in his hands. It's a scatter symbol, which can pay you just by being present in two or more locations. It offers payouts which start at double the bet value, and can go up to 100x.
I'm sure you will enjoy this game, despite its low number of paylines and the limited features. It makes up for them with its design and its unusual theme, plus it's quite cheap to play, even at the maximum bet.