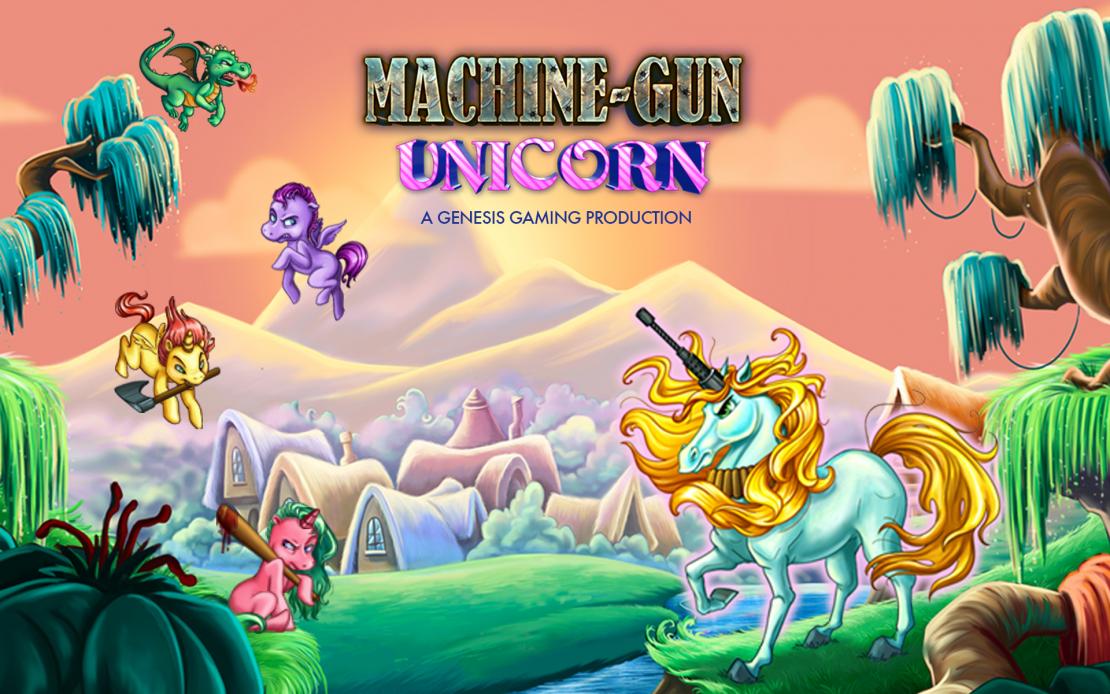 Machine Gun Unicorn Slot review
Coming from Genesis Gaming, Machine-Gun Unicorn is a slot machine with a unique story and design behind it. You will find out more about it below, but for now suffice it to say that it mixes unicorns and zombies in a game with a modern design, extremely well done. A total of 10 lines are provided, with prizes going up to $1,000. It also has a theoretical RTP of 97.187%, which is a good number for a slot machine.
If you want to know the back story, allow the intro movie to play, and you will get the full picture. It starts off with a story about how a land where ponies lived in peace was attacked by a horde of zombies, and at the last possible moment a hero appeared. It was a unicorn which had a machine gun in place of the usual horn. The slot's graphics are a mix of zombie heads kept in jars and baby creatures (unicorns, Pegasus, dragons) that are ready to do war.
The game might not allow you to change how many lines you work with, but it lets you do that with the value of the total bet. It starts off at $0.10 and it can be taken up to $10 per spin. Combinations pay both starting from the left and the right, so it's not as much of a disadvantage the presence of only 10 lines.
The slot's main symbol would obviously be the Machine Gun Unicorn, which is used as the wild feature. Unfortunately, only the 3rd reel can get this wild symbol, so it's not nearly as useful as it could've been in that role.
However, get one of these wilds to appear on the screen, and all the symbols with Zombie heads in them will explode. Each head explosion brings you a cash prize, so the more symbols of this type that were present, the bigger the resulting payout.
Play
Machine Gun Unicorn

here