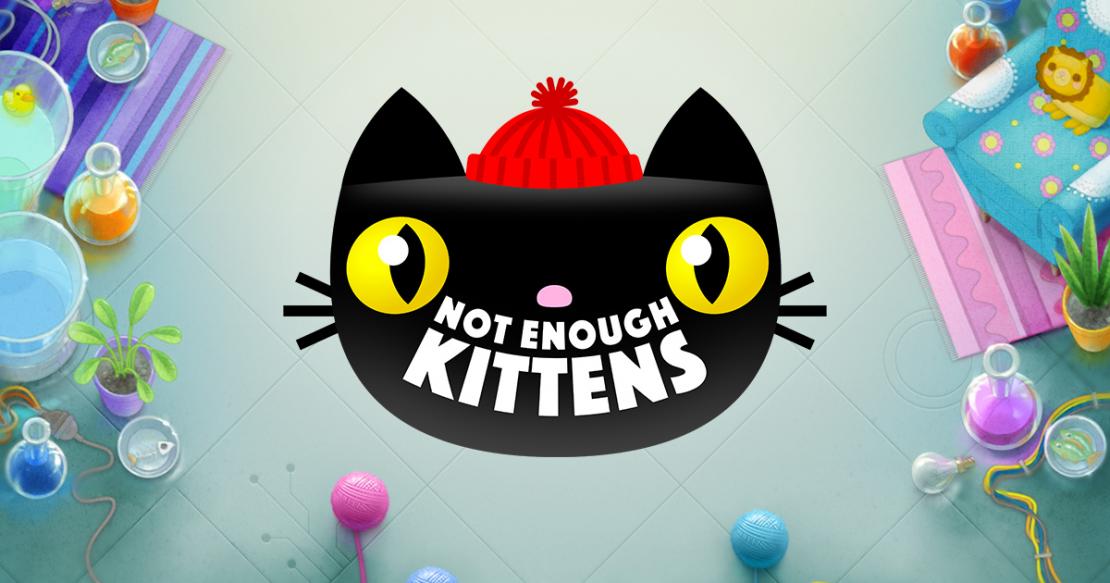 Not Enough Kittens

Slot review
Not Enough Kittens is a Thunderkick slot machine that has a cat theme and action that revolves around single and double symbols.
Not Enough Kittens seems to work on the principle that you can't ever have enough kittens in your life. The mad scientist that's controlling a kitten cloning machine is shown at the top, working the controls of said machine from her living room. As the reels spin, boxes with kittens and balls of yarn will come out from the top. An important aspect here is the presence of one or two kittens in those boxes, which is important for the slot's gameplay. The graphics are obviously modern, but they're designed for the humor factor, rather than for accuracy or beauty. The kittens end up looking like caricatures of the cute animals that they are in real life. The balls of yarn are the low paying symbols, and those come only in single variants.
You will play the game with 35 fixed win lines and with 5 reels. There is an average RTP of 96.1%, which would make the game attractive even without knowing that there is a $10,000 jackpot to go after. Features will provide you with the double symbols, wilds, scatters and free spins.
The wager falls within a range that is available in all Thunderkick slots. It starts at $0.10 and can end up at a maximum of $100. There is no mention of the line bet here, and the slot just modifies the paytable values based on the amount that you picked.
The most important feature to talk about in this game is the use of single vs double symbols. As long as they show the same type of kitten, they will mix to form winning combinations. The number of kittens shown in those symbols will determine the payout. 3 to 10 kittens will get you paid in this slot, while the low-paying symbols form up with the usual 3 to 5 symbols.
Wild symbols exist, and they also come in single and double variants, with one or two W logos. They pay up to $10,000 and they substitute as double kittens when they're part of those combinations. Also, a single kitten symbol will be randomly turned into a double, when a wild is present on its payline.
Scatter symbols are going to be used to trigger 10 to 25 free spins, when they appear three or more times. These also have single and double versions.
It's a very unusual design and gameplay, but I think they work very well and make this a slot that pretty much everyone would want to play. It can't hurt that it has kittens in the main roles.
Play
Not Enough Kittens

here