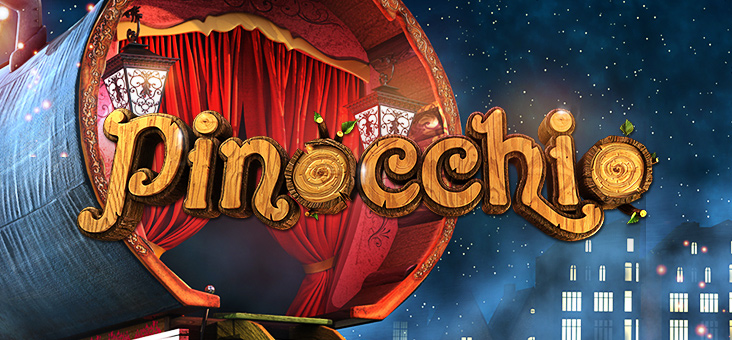 Pinocchio is a beautiful game, a slot machine with a 3D design that has the characters from the story right next to the reels, cheering you on. With Geppetto on the left side, while Pinocchio is on the right, you can start playing this game by placing a bet on its 15 paylines. Besides the gorgeous graphics, you can also expect prizes that reach values of up to $2,500.
The theme of the slot is inspired by the character with the same name, from an Italian novel which was brought to the TV screens all over the world by Walt Disney. Both the wooden boy that wants to be real and his father, the craftsman that created him, are used as the main characters of the game. The graphics are worthy of a modern slot machine, with a huge amount of small details included in every aspect of the game. It's a pleasure to look at its reels spin, but the poker cards are the one thing that clash with the quality that is offered in every other area.
The betting system seems to be standard, involving paylines, multiple coins and the value of those coins, which is chosen by the player. $1 is the highest allowed value for one coin. You can place a bet of up to $5 per line, or $75 total when the 15 lines are all used.
The game has multiple modes in which it can be played. You have Wooden Boy mode at first, but as you collect symbols which have mini-portraits of the Real Boy, eventually you unlock the next mode. It is called Real Boy mode and you need five collected icons to get there. To get back into Wood Boy mode, you now need to collect Wood Boy icons.
There are three different worlds in which action takes place. There is the Workshop, the Classroom and the Stage. Each one has its own scatter symbol which is reserved for the middle three reels, and which can trigger the Wild Scroll feature.
Finally, there is a Respin option, which gives you another chance at a winning combo, by keeping the good ones in place and spinning the remaining ones for free.