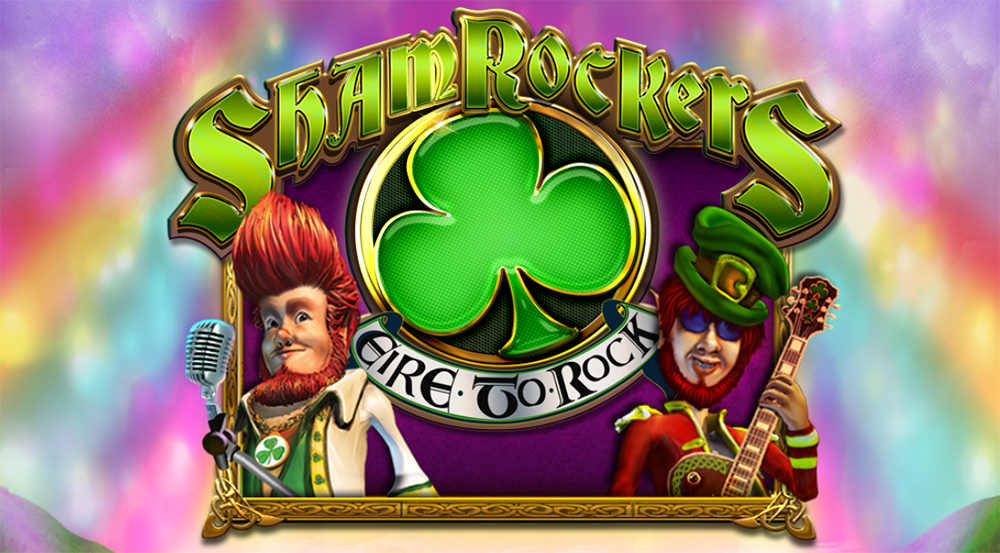 Shamrockers is themed around a band of Irish and leprechaun rockers, which is something you're not likely to see in another game.
The title of the game, Shamrockers, mixes the words "shamrock" and "rockers" together. The result is a bit weird, as you'd expect from a game which uses leprechauns as rockers. The design is a mix between the two topics, with graphics that show off both the parts related to the concert, and those that tell you about the Irish influence. Otherwise, it's a pretty average looking slot machine, with 5 reels, 20 paylines and a jackpot that gives back only 500x.
The graphics look good enough, but there is nothing really special about them. You get the images with the four Irish/leprechaun rockers, and then there are playing cards with a Celtic style decoration on them. I wasn't too impressed with the game, and even though it's got a unique mix of themes, that alone doesn't make it an appealing choice.
IGT tends to allow the player to wager as much as he wants on each line, but starting from a minimum of $1 and with all the lines active. That's how you get the minimum bet of $20. You can take it much higher though, the slot going to at least $100 per line, or $2,000 total for one round.
One feature to consider in Shamrockers is the wild, represented by a three leaf clover, so it's not even the kind that is lucky for the player. As a wild, this symbol may be used only as a substitute for others, and it will not form its own combinations or replace bonus icons.
The Admit One Ticket is the bonus symbol, which acts as a scatter and which can trigger free spins for you. These scatters have to appear on all three reels from the middle, in order for the free games to start. You get 4 spins for free at this point, and each round has its own rocker to govern it and come in stacked.
Should the last spin of the bonus get you a VIP ticket, you will retrigger the free games with another four rounds. This VIP Ticket only appears on the 5th reel. It is a wild symbol as well, but only during free spins.
You should be able to find plenty of better looking games out there, which pay better and have improved features. I'd suggest you keep looking and don't settle for Shamrockers.