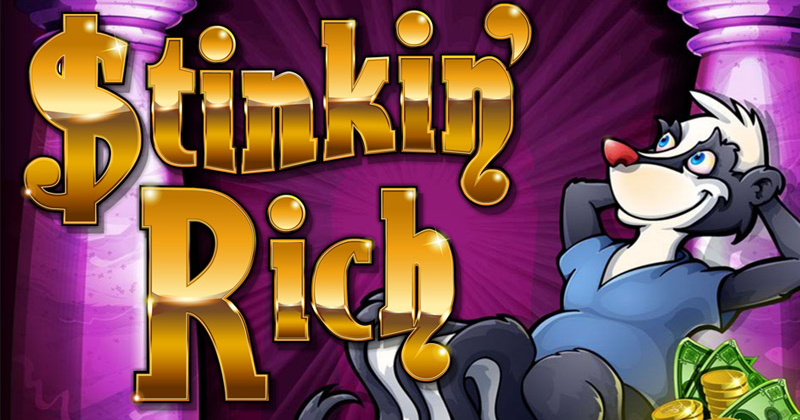 Stinkin' Rich Slot review
Stinkin Rich tries to be a luxury themed game, but fails to offer the right graphics to qualify as a good slot in this category.
The mix of stinking and rich elements that are in use in this slot is unusual, and it can be one of the things to enjoy about it, the fact that it's unique in its own way. Stinkin Rich is one of the games that were recently released by IGT, yet it doesn't manage to put forward a good enough design, for the most part looking like it has at least 10 years behind it, and that's no compliment. The game holds an impressive 100 paylines on its reels, and it will pay up to 10,000x.
The idea is not a bad one, it would certainly be unique, but the way it was implemented makes it look quite dated. It might've looked good 10 years ago, but these days it feels old. The quality of the drawing is simply not good enough when you compare it with other slots that come out these days.
Since there are 100 lines that you can use, the minimum bet gets expensive if you activate them all. You wager at least $100 per spin that way, and it can go to thousands of dollars if you let it. Another option is to use fewer lines, and you can get away even with using only one line if you want to just see what it's about.
One of the four feature symbols that are available, the wild symbol gets the lady skunk as its image, and it will be used as a simple substitute, nothing more. It will not apply its powers when it comes to the other special symbols.
The Male Skunk is a scatter, whose only role seems to be that of a trigger for cash prizes. They start at 3x the wager, and can go up to 100x the wager, depending on how many of them are on the reels, at the same time.
The slot's free spins are activated by the presence of three symbols with a Keys to Riches logo on them, which can appear on the reels 1, 2 and 3. The same line needs to have all three at the same time. If multiple lines get these three icons together on them, then you receive 5 free spins for each line.
Finally, there is a bonus game which triggers with help from a scatter which has a Trash for Cash logo. You can win between 6 and 40 times the bet value from it. The scatters with this logo are used on the 3rd, 4th and 5th reels.
I wouldn't recommend it, but that's mostly because so many other luxury themed slots will look a lot better. The features are not bad, and its payouts which go up to 10,000x are actually better than average.