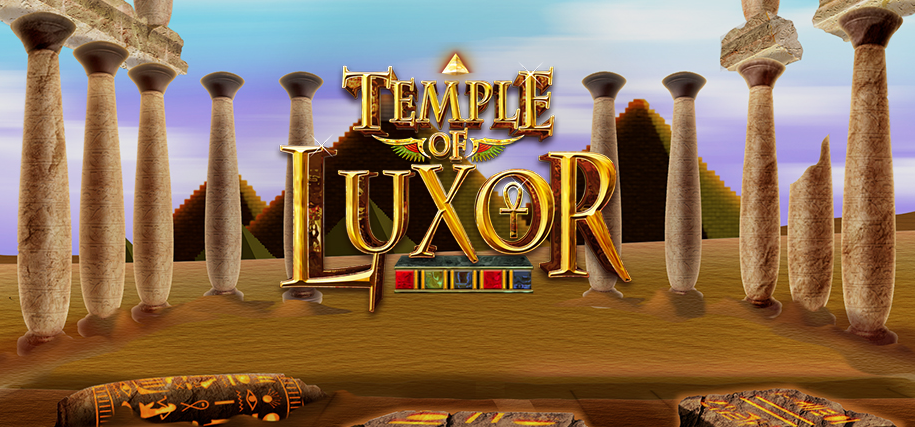 Temple Of Luxor

Slot review
The unusual part about Temple of Luxor is clearly not the choice of theme. Ancient Egypt has been part of a huge number of slot machines already, and I'm not sure if it's due to the large interest that players have in this time period, or because developers are running out of ideas. However, there is one side of the game which will surprise you, and it's the fact that it has two sets of reels present, both of them with 5 columns, one to the right and one to the left of a decorated stone pillar. A total of 100 paylines are on them, which require small wagers and which can pay you back up to $20 in the base game, or up to $500 in the bonus game.
One of the things that I've liked here, besides the two sets of reels built into a single game, would be the quality of the symbols whenever the reels show off Ancient Egypt. I'm less of a fan of their use of poker cards to fill up the reels, but at least those representations of ancient gods do look highly detailed.
The bets are not that difficult to manage. You have 100 lines which need to be covered at all times, but the requirements are on the low side. You start off with a $1 total bet, so $0.01 per line. You can increase it up to $10, which would be $0.10 per line.
To get the free spins started, you need for both sets of reels to meet certain conditions. In each case, you need 2+ Bonus symbols present at the same time. The result will be a feature with free spins and a unified game with 11 reels in it. The payouts here are considerably better than those from the base game.
The WILD logo is another one that will serve you well. As the wild feature, its ability to substitute for other symbols will help you get paid more often.
Play
Temple Of Luxor

here