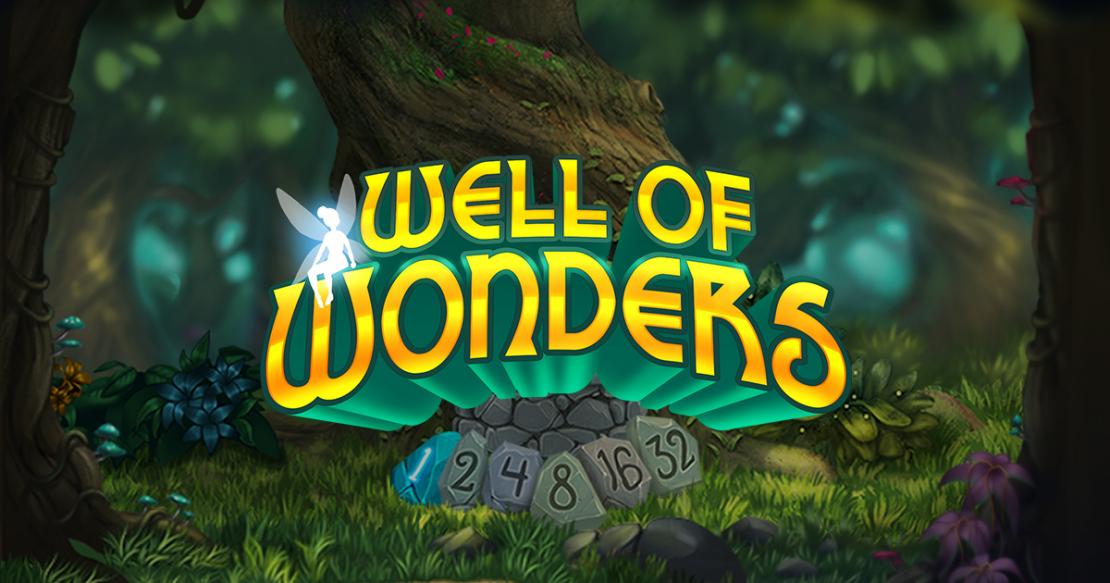 Well of Wonders

Slot review
Well of Wonders is a game with a fantasy theme, a modern design and with a style of gameplay that I doubt you will see anywhere else.
The action in Well of Wonders doesn't work the way you might be used to. This Thunderkick slot machine gives the player a very unusual design, which lacks any of the usual reels or pay lines that you would expect to see. Players might not even be sure that this is a slot machine at first. You get your symbols from a well, which spews the icons out at the beginning of the spin. You get 7 symbols each round, and your combinations will form depending on how many of the same type are visible. There are no regular reels or lines, but you do get wilds, respins and multipliers, all features that will help make the game even more attractive than it already is. The ultimate payout that is offered reaches a value of $5,000 during regular spins, or up to $160,000 during respins.
You lack any regular lines, so it is not a surprise that there are no regular bets in the game. You spend as much as $100 if you want to, or as little as $0.10, and the game will update the paytable to reflect the amount that you can win.
To form a combination in Well of Wonders, you need three or more matching symbols present. The symbols are actually runes of different colors and shapes, which will float and rotate above the well once they come out. You can use wild runes as well, to substitute for one that is missing. The more matching symbols are present, the bigger the payout that you can land.
The wild symbol is present as well, as I mentioned, and it has a W logo showing on it. It's only a substitute for others, it can't be used to pay you directly.
Landing winning combinations in Well of Wonders will result in respins that are offered for free. Symbols which are in the win will be removed and the new symbols coming in can bring you other payouts. Multipliers are provided for each new respin that comes through, getting up to 32x eventually.
The Fairy Feature is the final option you can get in the game. You can activate it only during rounds with no wins, at random. It takes out single symbols and increases the multiplier, after which it gives you a respin.
The quality of Well of Wonders is very high, which is exactly what I expect to see in a Thunderkick slot. The game is worth playing for its unusual style alone, but it can also pay very well.
Play
Well of Wonders

here
Well of Wonders

gameplay video