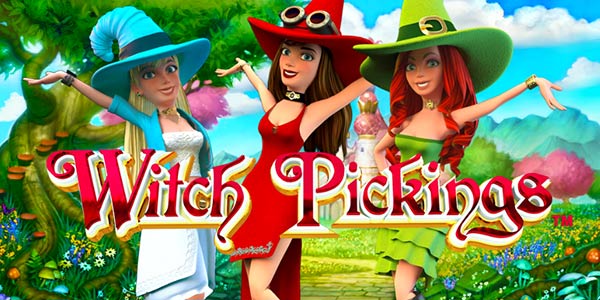 Witch Pickings

Slot review
Sporting a fairytale like look, Witch Pickings is offered by NextGen and it tells the story of three lovely witches.
Witch Pickings is a game whose title that might give you the idea that it's about witches riding out in the dark, riding brooms, ugly things that you would be scared of meeting at night, but it actually does a lot better, and tries to charm you with its main characters instead. The three lovely witches which are the heroes of this game appear together in one of the symbols, the rest of the design insisting on the idea of witchcraft, using potions and cauldrons to get there. The slot has small payouts, of up to $2,000, and it gives you 25 lines that you can bet on.
The fairytale atmosphere that is in place here gets help especially from the background picture, with its flower covered meadows, with pink and green trees and the obligatory castle shown in the distance. The reels are occupied either by playing cards, or by images which are related to the witches and their activity. You will get the witches, crystal orbs, cauldrons, potion bottles and so on.
The game's betting is done on 25 lines, yet it requires 40 coins and it tries to hide it from the player. You do see that you wager 40 coins, but the main screen doesn't mention the number of paylines, so you don't know that you're using an extra 15 coins per line that the slot doesn't take into consideration when it awards payouts. NextGen is being sneaky about it, and it's not cool. Wagers go up to $2 per line, or up to $80 total.
The Purple Orb is the wild of the game, your way to the top prize of 1,000 coins, or $2,000. It has to form a combo of its own for that to happen. Otherwise, it can be a substitute for other symbols, with the exception of the scatter.
The three witches are shown in the scatter symbol, which can also pay you directly, but it doesn't have to form a combo. It's enough if you have multiple such scatters on the reels somewhere.
3+ Witches start the Witches Bonus, where you pick from the three witches a total of three features, which will be available during the free spins. You can get things like extra spins, wilds, stacked symbols, multipliers, and so on.
It looks like a great game, and it plays very well. I'm a fan of the free spins feature, which you can customize at will, but I didn't enjoy the small payouts or the fact that you use 40 coins to cover 25 lines.