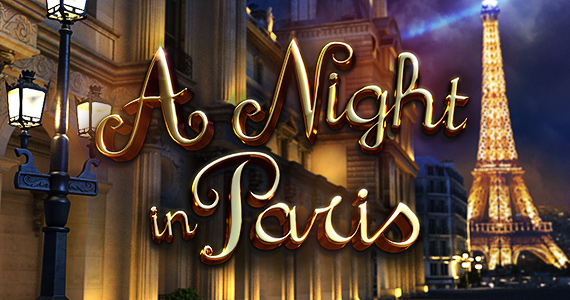 A Night in Paris

Slot review
Anyone's artistic side will be satiated and pampered as they enjoy the city of Paris. This is also the same experience one will get to enjoy with the A Night in Paris JP 3D online slot game. The game from Betsoft will take you on a short detour to the city of lights and love during its most beautiful hour, at night. However, you wouldn't find yourself trapped in some old Hollywood movie. You'll get to enjoy and feel the vibe of the authentic French movies in this game. The game also boasts of its excellent 3D animation and graphics combined with entertaining French music.
The game has 5 reels and 30 paylines and revolves around a burglary planned by a pretty little thief together with a security guard and his dog trying to prevent it. Parisian styles symbols can be found all throughout the game and present on reels. These include the iconic Eiffel Tower, the delicious croissant, a sculpture, vases, a pair of doves, lovers at a roadside café, the thief, the security guard and his dog. The bonus symbols are represented by a Paris security agency badge and a painting.
Coin bets range from $0.02 and $1, and the maximum number of coins you can bet per line is 5. Bet as much as $75 and win double after being able to get security guard symbols five times in a row. Bet and decide on how you'll control your luck because the game does not feature an autoplay option.
Instant rewards are also triggered in the fame when you get the painting symbol at least three times on the reels. Free spins comes in surprise at some point but the other two game bonuses are not easy to come by.
Play
A Night in Paris

here