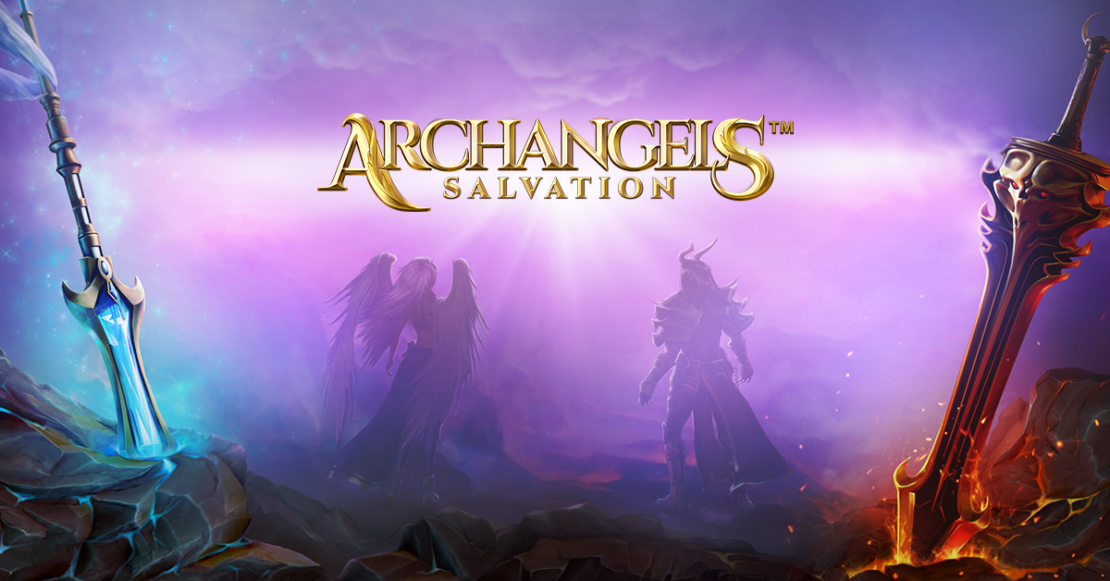 Archangels: Salvation Slot review
Check out the first slot machine with 100 lines from NetEnt and find out how the battle between good and evil works out.
Archangels: Salvation is available at NetEnt casinos, as a slot machine that seems quite different from what I've come to expect from them. They decided to innovate layout wise as well, not just through features, and that's something they don't do often. The classic fight between good and evil is yet again covered by a slot machine, and this time we have a blonde female angel, sporting a bikini armor and huge white wings, along with a dude with horns, long hair, red skin and a very cool flame sword. Each of the two sides gets its own half of the background image and its own symbols. 
Speaking of symbols, the two characters are going to land stacked on the long reels, with a lot of card suits and various logos present as well. Overall, I didn't find the choice of symbols too interesting, but they're well made anyway. One aspect to note here is that the reels occupy only about a third of the screen, thanks to the fact that they're very tall, and so there is a lot of unused space while symbols are very small.
The slot sports 6 reels with 100 active lines for them. Wild features are available, plus free spins and the Hot Spots that will make the action even more interesting. The individual wins don't offer more than $750, but in theory the game will deliver up to $75,000 in a single round.
The bets used here start at $0.40 and by increasing the number of coins per line and their value you can end up with wagers of up to $200 ($5 per line since you bet on 40 lines out of 100).
2×2 Wilds are visible on the reels of the game and they are available as replacement symbols.
The top and the bottom sections have Hot Spots, areas which activate the Heaven or Hell features, provided that a 2×2 wild appear in one of the zones. Depending on whether the wild is partially or fully in the Hot Spot, it gives you a smaller or bigger feature.
Heaven Feature generates 2 or 4 stacks of wilds that are added to the reels. 
Hell Feature gets you single wilds for the reels, either 8 or 16 of them.
There will also be free spins here, 10 to 25 rounds, which will come with 2-stacked scatters and bigger Hot Spots.
It's a very interesting game, definitely out of the ordinary even for NetEnt, but still recognizable as one of their titles thanks to its quality.
Play
Archangels: Salvation

here
Archangels: Salvation

gameplay video