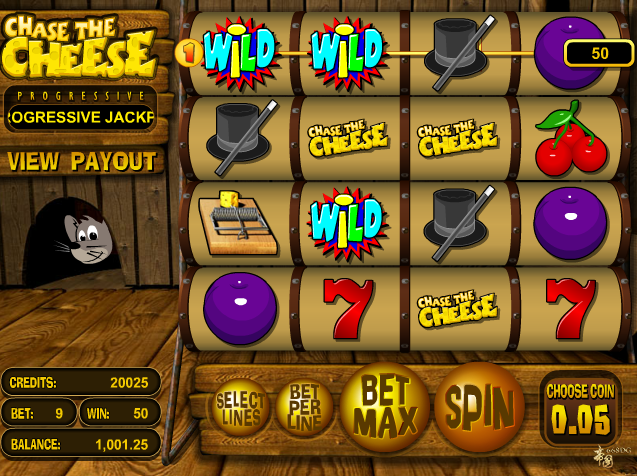 Chase the Cheese Slot review
Enjoy a very unique game layout, fun twists and loads of prizes in Chase the Cheese. The online slot game allows you to play within a 4×4 grid format which is far different from the usual slot machine space.
The unique game is a 9-line slot with 4 reels developed by BetSoft. Its 4×4 grid is one of its unique features, which put you right in the middle of a standard 5-reel video slot and a 3-reel machine.
The layout of the online game is not the only thing that makes it unique. Winning prizes in Chase the Cheese is also one of its amazing unique features. Most online slot games make you match symbols in active paylines, but not in Chase the Cheese. You do not need winning combinations from the end or the beginning of the lines. All you need to do is to make a winning combination of consecutive symbols anywhere on the payline. This is enough to let you win amazing prizes even at the center of the line. What is great is that it also comes with a wild symbol, which also allows you a greater chance of winning big.
On top of the unique perks, you can also enjoy special features while playing Chase the Cheese. There is a bonus round which you can activate by filling an entire active payline. During this round, you will take control of the mouse that collects pieces of cheese and move through a hole. This skill-based round offers outstanding rewards including hundreds of free spins. The game also boasts a progressive jackpot.
When you are tired of the usual slot games then try out Chase the Cheese. Have fun and earn big while you play online.
Play
Chase the Cheese

here