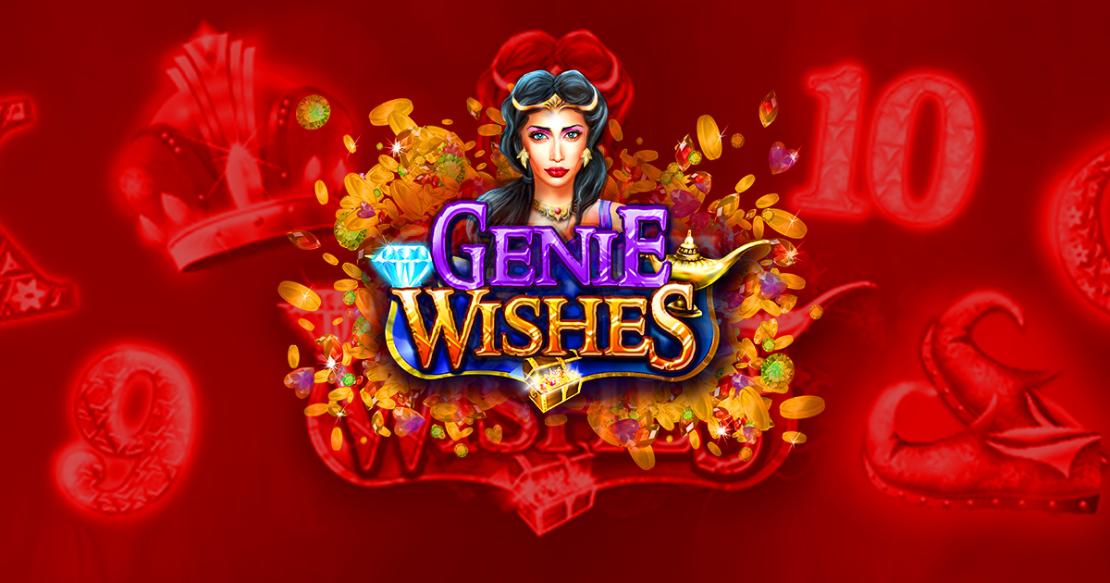 Genie Wishes is a game that's inspired by the story of Aladdin and the magic lamp, with the focus being on the genie that grants you wishes.
Genie Wishes doesn't have a terribly original theme to offer, since the genie that grants wishes has been the focus of more than a few slot machines already, but I appreciated in this Booming Games production that they went with a female for the main role, rather than a blue male. The rest of the symbols which were chosen are pretty normal for this topic, involving treasure chests, diamonds, magic lamps, crowns or Arabic style shoes, along with the poker cards made out of gemstones. The design quality is excellent, so there is nothing to complain about there, and I actually think that it's one of the better looking titles in this category. You don't get a lot of lines to play on, a maximum of 10 being activated by your wagers, but they can pay extremely well, the jackpot of the slot getting up to $150,000, which is an incredible 15,000x multiple of the line bet. It's not overly complicated feature wise, offering only wilds, free games and scatters.
When you're placing your bets in Genie Wishes, you need to cover between 1 and 10 lines, depending on your preferences, with bets that will be anywhere between $0.01 and $10 per line. This way, you can have all the lines active and use bets that are worth from $0.10 to $100 per spin. Those that just want to check out the game can get away with only one line active, and bets as small as $0.01.
One of the most common feature symbols in any modern slot is the scatter, which you can use from any position it lands in. What's important with a scatter is the number of times you see the symbol on the reels, a minimum of two being needed to get you some kind of prize and at least three in order to trigger free spins. The cash rewards are on the low side for such a symbol, going up to 15x total bet value only.
If the scatter doesn't give you big prizes, things change where the wild is concerned, since a combo that has five Genie Wilds in it will pay back the line bet at a multiple of 15,000x, so up to $150,000 cash. The rest of the time, when it's not forming a combo, you use the wild as a typical replacement, which doesn't work with a scatter.
Genie Wishes looks like a well made game, with a good design and big payouts, but with average features.