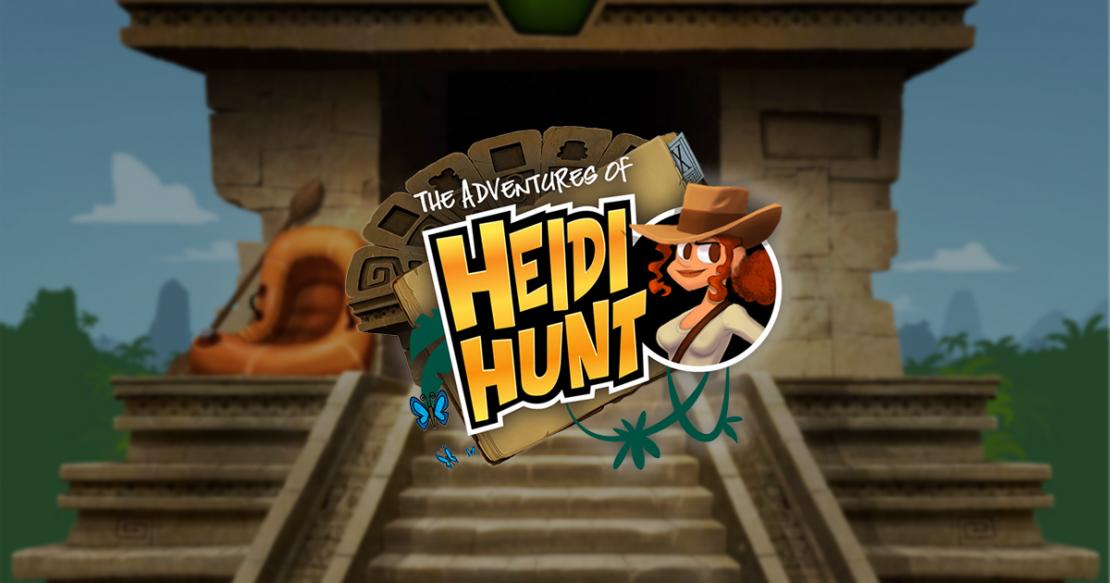 Heidi Hunt, the legendary adventurer, is travelling to South America in search for treasures in long lost temples, and the action takes place on a 3-reel setup.
One of the more impressive looking games with 3 reels that I've seen lately, Heidi Hunt is offered by Magnet Gaming and it's an adventure themed title. You have Heidi Hunt, a spunky redhead, in the main role and assisting you from next to the reels. On the three reels, you have blocks of stone with different creatures drawn on them, from piranha fish to sloths and turtles, along with several logos representing the features that can be triggered. A big portion of the screen is actually occupied by the temple for which the reels serve as an entrance, and so you see the jungle behind it and a lot of decorations. I found this to be a very enjoyable design, one of the best actually if I'm looking at the 3-reel category alone.
Among the things that will attract the player to Heidi Hunt, the progressive jackpots will be at the top, two different ones being available. Besides those, there are bonus payouts that reach 480,000 credits at most, though in a game with minimum denominations it doesn't mean as much cash. You have 8 bet ways for the 3 reels and as features there are River Wilds, free symbol substitutions, multipliers and all sorts of cool bonus games.
When you set up the bet, you have a range of $0.10 to $8 to work with, where the coin denomination is fixed at $0.01. The level of the bet ranges from 1 to 20.
If you get a win on at least one pay line, then the game will give you a symbol substitution for free, on top of the prize. Winning symbols are removed and replaced with new ones, with new wins benefitting from multipliers that reach 5x.
Game Chance is a feature which can be used to trigger a bonus game associated with a progressive jackpot, either Jackpot Flash or Super Jackpot Flash.
River Wild requires three appropriate symbols and it triggers a bonus game that sees Heidi sail on a jungle river, trying to collect coins.
Stonewall is another bonus game, one that involves treasures this time, being activated through its own icons.
Finally, there is Temple Raider, the symbols and the bonus game that comes out of them. This one has the largest payouts of the slot, depending on what you find (The Golden Amulet is the ultimate target).
Heidi Hunt is going to give us big potential payouts, a very long list of features and cute graphics, so it's an excellent choice for a lot of players.