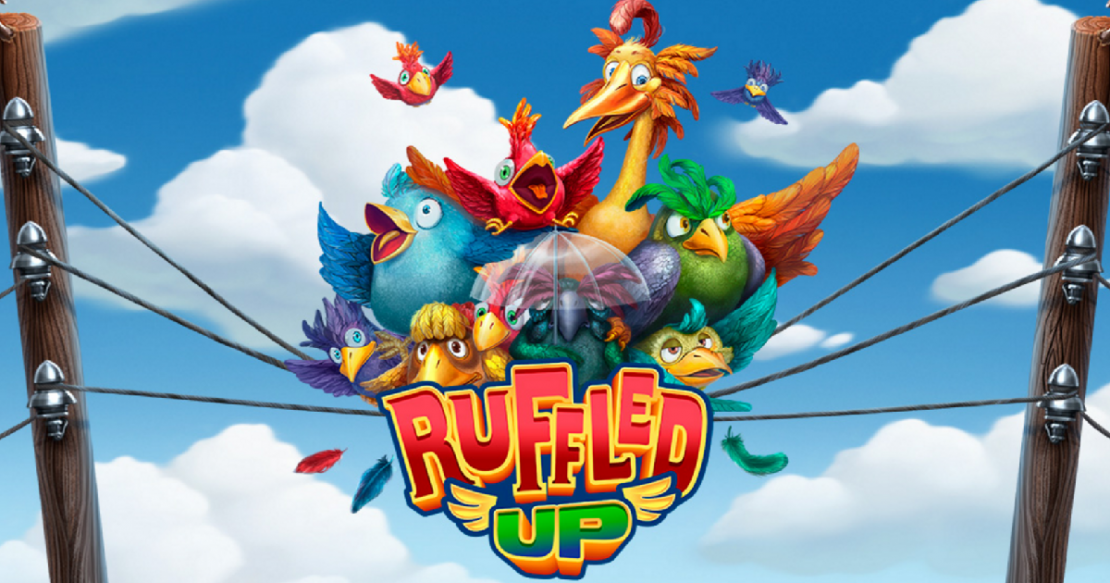 Ruffled Up is a game that comes from Habanero, and which appears to be inspired by the Angry Birds franchise, though not directly.
The look of Ruffled Up is not the usual one for a slot machine, the symbols here being birds that sit on wires. The word cute comes to mind when I'm looking at this slot machine, and I think the designer did a very good job with it overall. You seem to get only themed symbols, all of them being cute birds which come in all shapes and sizes, not to mention colors. The slot offers a total of 243 ways to win, 5 reels and as rewards you can expect to be paid up to $180,000.
As I've mentioned above, all the symbols you get on the reels are with images of birds on them. Most of them take over a single position, but there is an expanding wild as well on certain reels, a tall bird that occupies three positions on its own. There is a certain resemblance to the Angry Birds characters, but not a very close one.
It can be an expensive slot machine to play, which has 243 ways to win and which requires that 25 lines are used for the wagers. Each of those lines gets a bet level of 1 to 10, with just as many coins covering it. The coins can have values of $0.01 to $20, so the game allows for up to $200 to be used on a single line, or up to $5,000 total.
As features, the game relies on wilds and scatters. The wild symbol uses the tall yellow bird to represent it, a wild that is only allowed on the reels 2 and 3. If it appears there, it occupies the entire column, and it is used as part of any regular combination. It will not count as a scatter symbol.
There is only one bird that's shown holding an umbrella, so you will find it easy to spot the scatter symbol when it makes its appearance. You need a minimum of two such symbols, to get a prize from the slot, but the best one, at 900x, will be offered when you have it on all five reels. This is the symbol that brings you the big prize, of 9,000 coins, which can mean up to $180,000 cash.
The same scatter can trigger free spins, as long as you get the minimum of three symbols at the same time. You get 10, 15 or 20 free spins when that happens. Random lightning strikes can occur during the free spins, and the birds which are hit will offer prizes. You also get the wild on the 3rd reel as well, not just on the 1st and the 2nd.
Thanks to its graphics, at least average features and big prizes, Ruffled Up seems like a good game to play, no matter what you're most interested in when it comes to a slot.