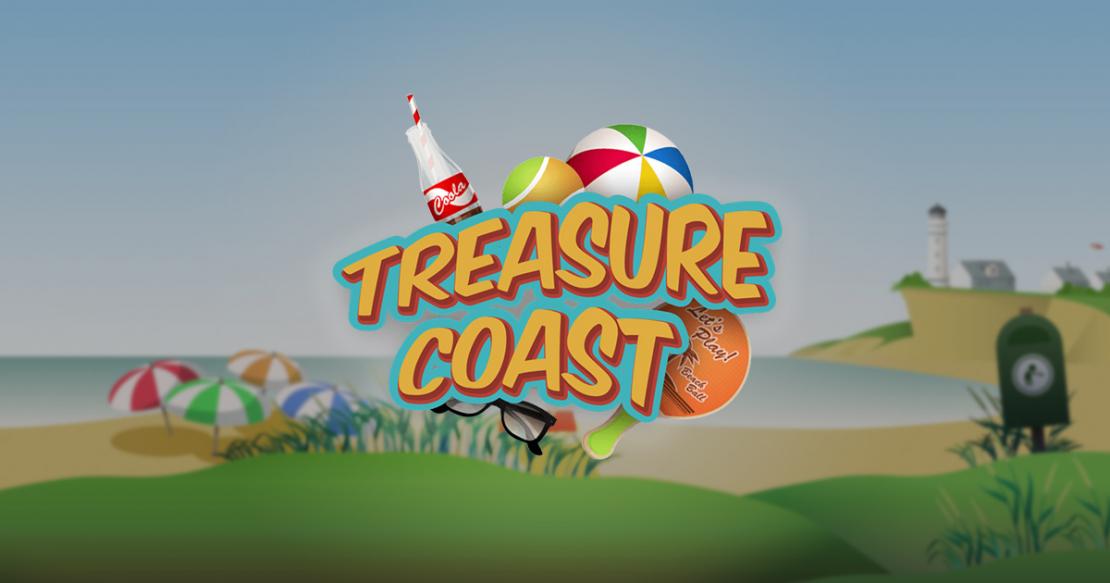 Treasure Coast

Slot review
Treasure Coast is an innovative game, with a classic layout and a theme that revolves around beach treasure hunters, the kind that use metal detectors.
Treasure Coast is offered by Magnet Gaming, a small developer that makes a pretty good impression with this particular slot. They created a game that has a modern design, but which is packaged in a 3 reel layout, so it could be considered a classic slot machine by most. The action takes place on a beach, where you see a guy that's resting on a beach chair, next to a cooler and a flag pole. Based on the symbols which appear on the reels, he's a treasure hunted that uses metal detectors. The reels are also getting beach balls, Coca Cola bottles, posters, sunglasses, a kite, a camera, ice cream and a gold nugget. There is nothing classic about the symbols that are displayed here.
The game has 3 reels, as I mentioned, with a total of 8 active lines on them. As features, the game gives us the Flag Hunt with its free spins, the Forgotten Gold bonus game, as well as the Lost & Found feature and the Boat Race. A jackpot of 20,000 coins can be won if you play this game.
To set up the wager, you need to use the options at the bottom. The credit value seems to be fixed at $0.01, but you can select a level for the bet, to increase its value. You can spend at most $10 per spin. You're using 10 coins apparently, with values between $0.01 and $1.
One thing of note here is that the game's lines are not all horizontal. There are also three vertical active lines, as well as two that go in a diagonal. As long as you have three matching symbols on one of those 8 lines, you will get your win.
Lost & Found is a bonus game where you're going to use a metal detector, in order to find items on the beach. There are two progressive jackpots that can be won through this feature, depending on whether you locate enough items.
Forgotten Gold is another one to pay attention to, and it will ask you to go through a beach bunker, by using golden keys and guessing what the right way is.
Flag Hunt brings you 25 free spins and during them you need to hoist as many flags as possible. Each of those flags also brings you a prize. The two jackpots can be won through this feature as well.
Boat Race is the final feature, and there are six potential prizes that you can get, depending on the position in which you finish.
It's an exciting game, much more so than most 3 reel slots you find these days. It's one of the few 3 reel games that I would recommend even to players that normally don't enjoy them.