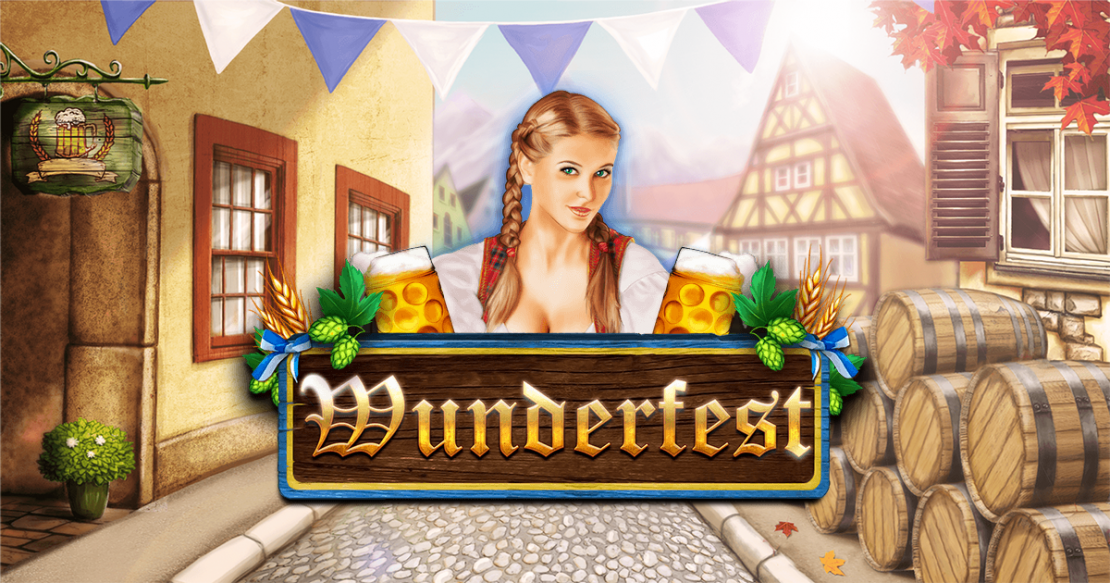 Wunderfest is a game that's apparently inspired by the German Oktoberfest, a holiday that's dedicated to beer drinking.
Wunderfest is a Booming Games slot machine which has a focus on beer drinking, as it is done at the various festivals that Germany has dedicated to this activity. The traditional side of Germany can be seen in the design of this slot, with the reels being populated with images of beautiful beer maidens, with mugs of beer, pretzels, sausages, traditional Bavarian hats, acorns and other related images. There aren't any unrelated icons present luckily, and the background image shows an alley that's holding multiple barrels of beer that are just waiting to be opened up for customers.
Though you get 5×3 reels, a pretty regular setup, only 10 active lines are possible on them each round. The high wager values make rewards of up to $300,000 possible, which is impressive. The features involved in this game include a wild symbol, a scatter and free spins, so it's a meager offer overall.
The game gets at most 10 active lines, with the chance to select fewer if you want to. The line bet is the one that really gives you the bigger range for the wager. You can select a line bet that is at a minimum of $0.01, but you can also take this value up to $30. The result, for 10 active lines, is that you can spend up to $300 for a single spin.
In terms of rewards that you can go after, the wild symbol has a huge payout of 10,000x to give away. Given the line bets which are possible in Wunderfest, you could be winning $300,000 cash. The way to do this is via a combo of just wilds, five of them and occupying an active line. If you don't have the wilds aligned in a way that will allow them to form their own combinations, they can be useful by acting as replacements for other types of symbols.
Moving on to the scatter symbols, they're marked properly with a Scatter logo and they show a beer stein in the background. These also offer decent rewards, reaching $15,000 (50x total bet). The scatters are the ones that can get you free spins, provided that at least three symbols are visible.
Wunderfest is a fun game to play, especially if holidays like Oktoberfest are going on and you would like to celebrate from home.